Dear employers, you need to take a front-row seat for this conversation. Have you ever really thought about how much it takes to recruit and onboard new talent?  
Research shows that hiring one employee will cost you upwards of $4000. Yes, you read that correctly. $4K covers the cost of advertising, administration, HR time, and training.  
Imagine having to spend that much money only to realize that the candidate is not a good fit for the organization. You could save yourself a lot of money and time by knowing where to find and how to hire top talent. That is what we will show you in our article below.  
1. Utilize Talent Acquisition Platforms 
A talent acquisition platform frees you from a manual search for top talent.  The platforms are ideal because the turnaround time is fast. You also do not have to spend a lot of money on talent discovery, screening, and much more. They use technologies like artificial intelligence to sift through tons of candidates.  
The platform will match you with an employee who has the right skill set, depending on your requirements. Further, there is transparency in the processes with automation. It eliminates bias based on gender, age, race, or sexual orientation.  
2. Go Straight to the Source with Campus Recruiting
Companies can attract suitable candidates through campus recruiting. The advantage is you get a dynamic group of young talent who are still very enthusiastic. Such individuals need to prove themselves in the job market. They will therefore work very hard. 
The institutions are also happy to include such companies in their placement cells. The organization can get more visibility and attract the right people by:-
 Offering mentorship programs through workshops and seminars
 Taking sponsorship of campus-related activities like cultural events and festivals
 Give opportunities for internships within the organization
 Finding placement in compass communication like newspapers or newsletters
Campus recruiting is a method that big companies like Google, Microsoft, and Facebook use. It works for them, so don't rule out the young minds.  
3. Make the Offering Attractive
Do you know why some companies can steal your employees so easily? It is because they make their offering more attractive. The reality is an employee is working for a reason. Unless they have wealthy parents, many look at the monetary compensation.  
If the payment is not good, they will have their eyes and ears open for greener pastures. Up to 70% will leave a position if the income is not good.  
The table below presents findings on research done by Paychex Worx on why employees will leave.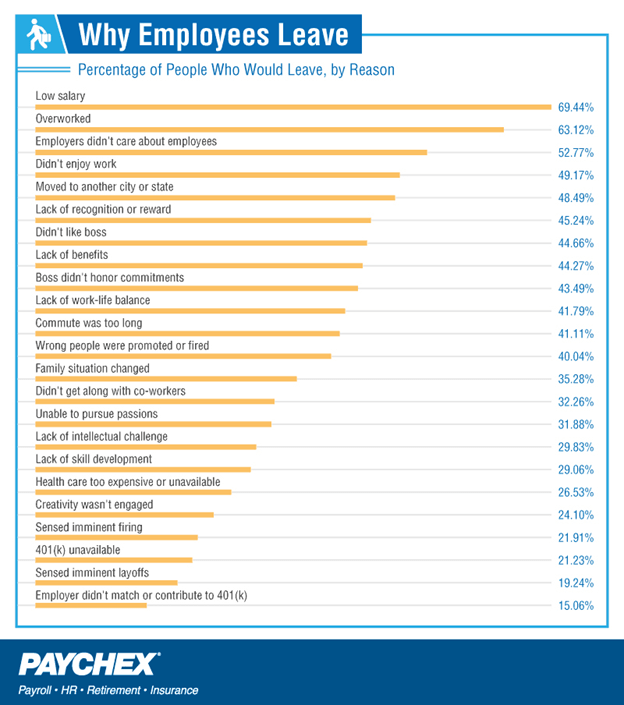 Look at the market rate, and then decide how much you will need to pay. The remuneration should be commensurate with the value the employee brings to the company.
It also doesn't hurt to throw in a few benefits. Such include overtime, bonuses, medical cover, and even free meals. The salary may not be as high as what other companies have to offer but the perks make it worthwhile.  
4. Do Some Soul-Searching
It can be easy to assume that employers are the ones who always go for employees. Yet, the reality is that potential candidates also research your company. How you position yourself in the market is critical. There are some steps you will need to take. 
Understand your values and mission as a company. With clarity, there is better engagement at all levels. 
Be clear on your unique selling points or value proposition. Competing for top talent is like haggling for the best products in the market. You must convince the candidate that you are worth the time.
Have an employee-focused organization. Your employees are your first brand ambassadors. How they speak about you out there could make or break you. Appreciate their contribution and be flexible. Put in place recognition programs and ensure the work environment is conducive. 
Take a look at some of these companies that put employees first. LEGO has adopted an informal, fun-centric workspace. GoDaddy has indoor and outdoor games for relaxing when the day gets a bit tough. 
Google provides employees with gourmet snacks anytime they need them. Best of all, you can bring your furry, or not, little pooch to work. 
Procter and Gamble allow employees to work from home if they wish. Holidays mean you go home with a pack of goodies. You get the picture!  
5. Social Media Bring Great Connections
Social media is no longer a space for informal interaction only. It has evolved to become a marketing platform.  
Employers can also find top talent on the platforms. One of the best is LinkedIn which attracts all kinds of professionals. There are tons of potential candidates with the right skills and experience. Companies can also use the platform for advertising positions and connecting with candidates. 
6. Go Back to the Archives
Every time you post job openings, you receive tons of responses. Unfortunately, you can only hire so many for each position. But, it does not mean that there aren't some excellent candidates in the pool. 
Do not ignore past candidates when hiring. Having the right way of managing resumes when you receive them is critical. Digital applications mean that the data is available anytime you need it. 
Some of the AI technologies can help you go through what you have. They will then pick up the candidate with the right skill sets.  
Using the existing resources can save the company a lot of time and money. The HR does not need to go through each application by hand.  
7. Go Beyond the Borders
Technology and the digital space mean you do not have to have employees in one physical location. Remote working has become the new normal. It may sound cliché, but that is the reality for many people. 
Companies can find some of the best talents in other parts of the continent. Be open to the possibility of having an employee in Asia, Africa, or Europe despite your base being in America.  
Final Thoughts
Finding the right talent can be challenging but not impossible. We have looked at some things employers can consider to hire top talent on candidates for your organization.
Talent acquisition platforms give you access to a ready pool of individuals with the right skills. Campus recruiting brings young, fresh talent to the organization. 
Employers must work hard to create a good work environment. In this way, you avoid losing the people you worked so hard to get.