A lot has changed in the world of search engine optimization—and there are a lot of
SEO tips
out there on the internet.
However, certain fundamentals, like targeting keywords, will always remain the same. SEO will be the first priority if you rely on people to find you through search engines. Remember that you cannot get more leads if nobody finds you. 
A recent survey has shown that about 93% of online experiences on the internet start with the search engine. Other websites are ranking on the search engine result page more than others because they are making a consistent effort to improve their SEO score.
In this post, we will explore some important SEO tips that can help you increase your website ranking on the result page and organic traffic.
10 Effective SEO Tips That Will Help You to Increase Your Website Ranking
Here are some effective tips that will help you increase your ranking on SERPs, which are as follows:
1. Search for Keywords
The first step to increasing your ranking is looking for the right keywords. Keywords are the words or phrases typed by people on the search engine when they are looking for something.
A simple example of a keyword is "how to increase website traffic" or "how to run a marathon."
So, you have to find appropriate keywords that you can use as tags, which can help you rank on the result pages.
You can look for keywords by using some search engine features (which will be discussed next) or by using online keyword finder tools. 
You can get the right keywords by:
Using autocomplete feature of Google to get appropriate keywords.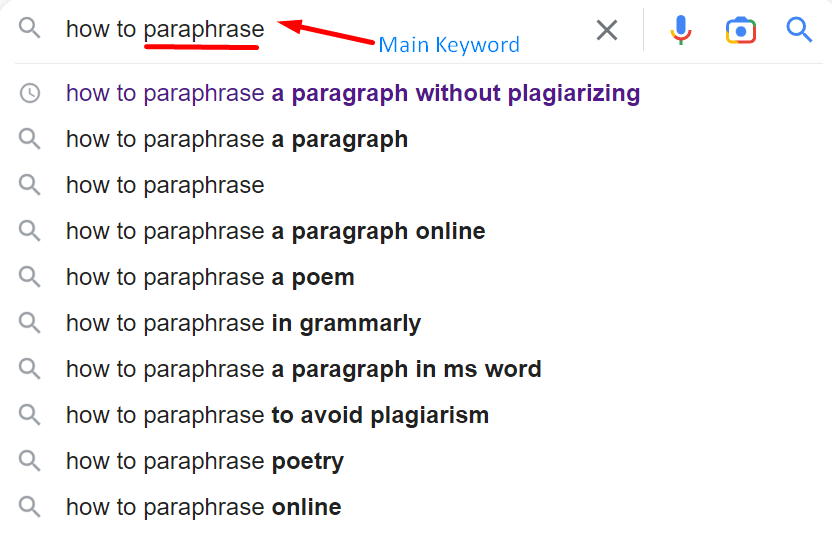 Use Google Related Searches, or the People Also Ask feature to get relevant keywords.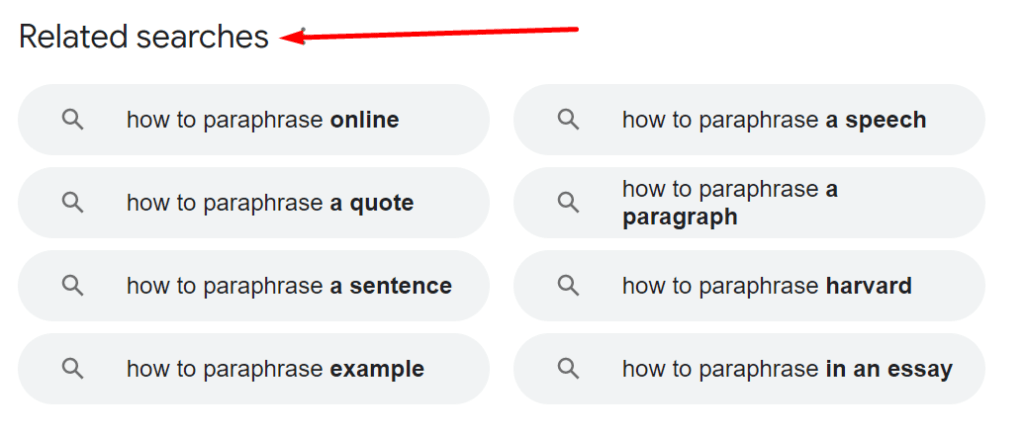 The other way to find the right keywords is by using online tools. They can also help you to know how much traffic they are getting.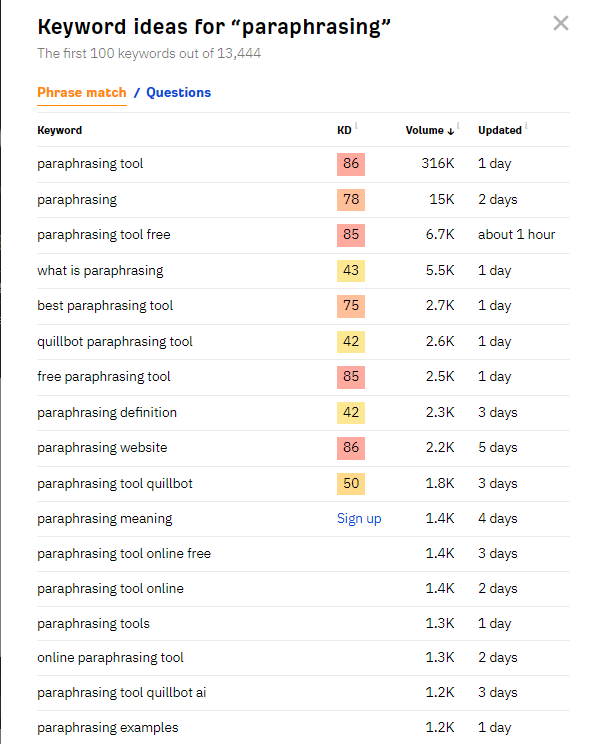 This will be easy for you to get suitable keywords that you can use. 
Do not use irrelevant keywords. If you use it, then the search engine will recognize it as "keyword stuffing," which will lead to a low ranking of your site.
2. Use Keywords in the Right Place in Your Content
Your website is just a showpiece if you don't know how to add the keywords and where to write them to your content. To avoid this, you have to use the main keywords:
In URL;
In title;
In meta-description;
In the first 100 words of content.
By following this tip, you can make your content optimize by ranking, and you don't have to worry about keyword adjustment. Now, let's move to the next step.
3. Write Unique and Catchy Content
If you want to increase your website ranking, then you have to write unique content. Search engines appreciate unique and quality content, and in reward, they help to get rank on SERPs.
When it comes to writing content for your website, you have to make it perfect in every way. A common problem that people usually face is plagiarism found in their content. In simple words, when someone uses other sites' content as their own without crediting the source, they get penalized for this.
So, in writing, don't forget to check for plagiarism in your content. Checking plagiarism will help you to determine whether there are any similar texts in your content or not. If duplicated text is in your content, then make sure to remove it.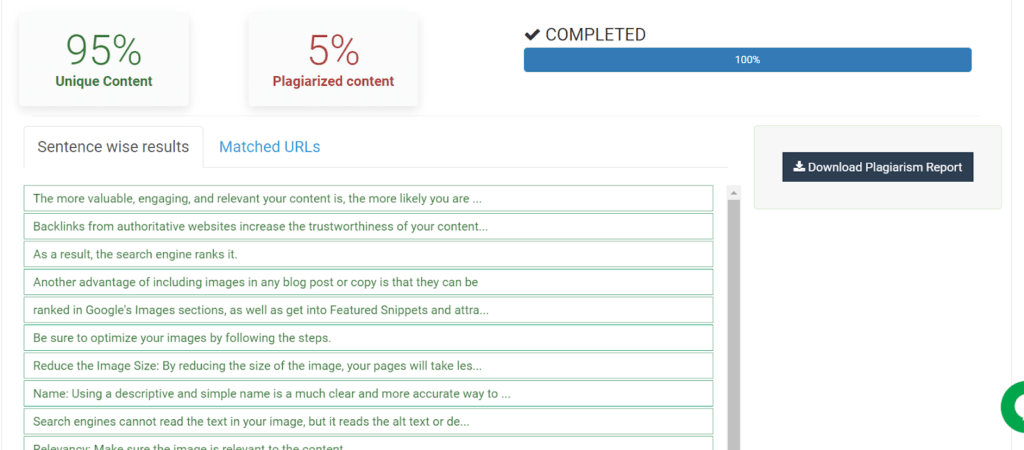 A plagiarism checker can help you to find the copied content. If you are copying the content from other sites and using them as your own without crediting them, you will be penalized for this and cannot get ranked on the search engines.
This is because Google has very strict policies against duplication, and if bots detect copied content on your page, then they can make your content.
To increase your website ranking with an increasing SEO score, you have to create unique and plagiarism-free content.
4. Write a Perfect Meta Description
A meta description is also an important factor that can help you in increasing site traffic and ranking on SERPs.
It is an HTML element that provides a brief summary of a web page. It is usually 160 characters, which appears under your page title in the search engine result pages.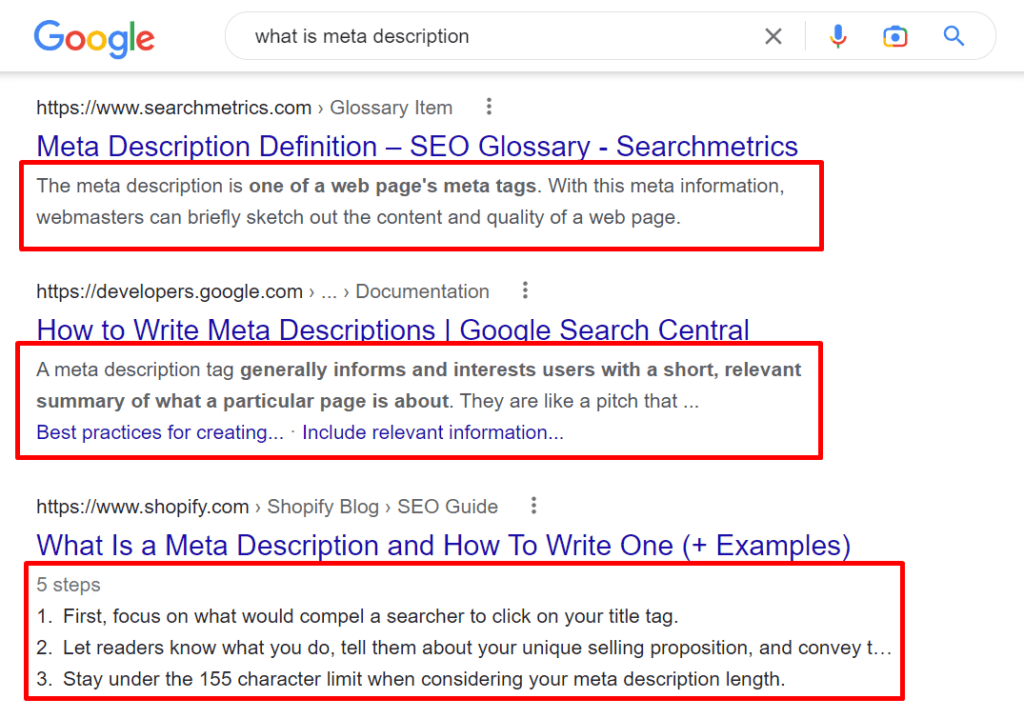 A good meta description has the power to raise the click-through rate (CTR) of your organic pages. You can bring more traffic to your site if you have made an effort to write a unique meta description with adjusting keywords. 
To increase website traffic, you must not use duplicated content in your meta description.
If you are using plagiarized content, then it can cause many issues, like a low bounce rate. For this, you can cite the content or link it to the source (from where it was taken).
Along with this, add 2 or 3 important keywords in your meta description.
5. Optimize Your Content for Featured Snippets
Feature snippets are those large boxes you see at the top of Google search results.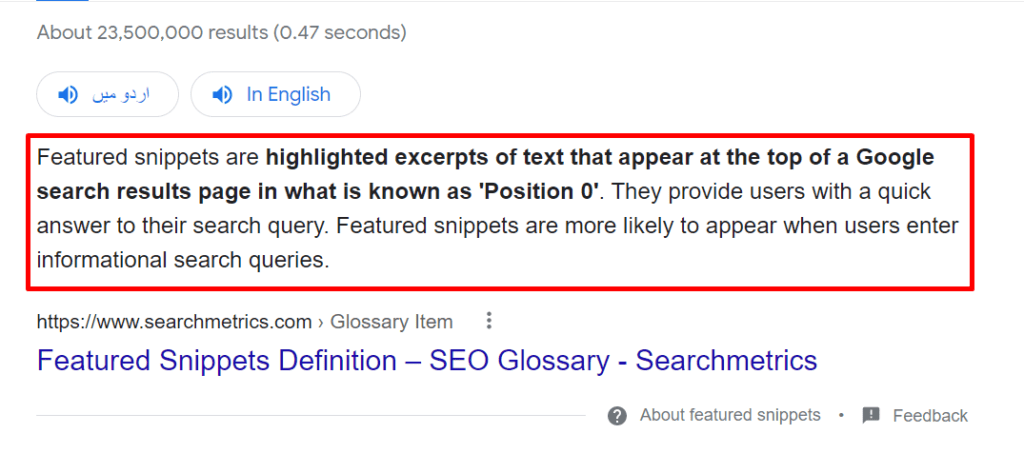 The content in the featured snippet is refined from one of the top ten result pages. This is quite a good tip because you don't have to get the first position on the result page. If you get a place in the top ten, you have a chance to appear in the featured snippet.
For this, you have to optimize your content. You can easily optimize your content by using questions like how to/where/why/what/when.
The reason to use questions is users always go to search engines to look for something or find the solution to their problems.
They don't search their queries like they are providing the answer; they search it like "How to avoid plagiarism?" or "where is Eifel Tower located?".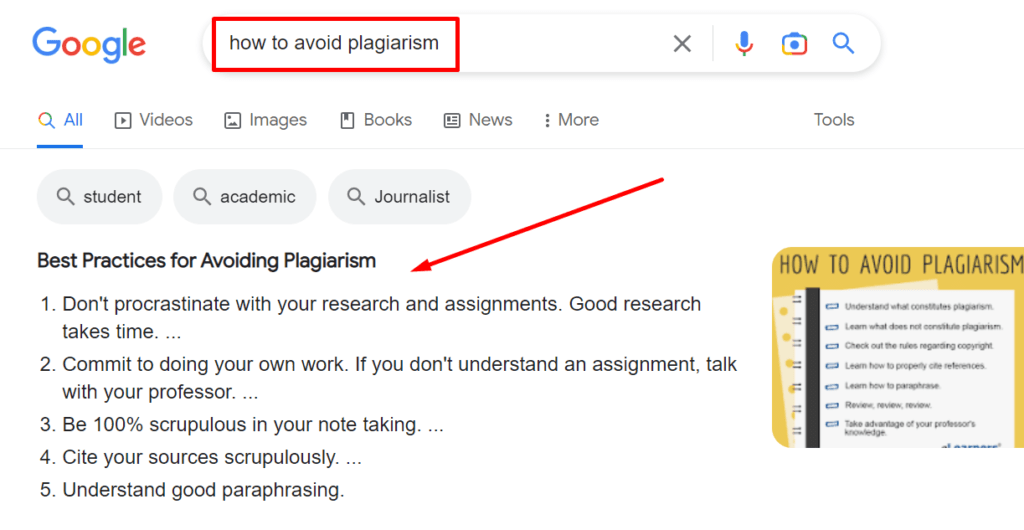 You have to provide a short answer to the user queries in the featured snippet. The reason is if users find your content useful, then they will come to your site for more information.
6. Link to Other Relevant Sites
Link building remains a fundamental part of smart research engine optimization strategies. If you want to increase your website ranking with an increasing SEO score, link building can help you.

By adding internal links to your content, you can get your visitors to spend more time on your website and explore it. This will help you in getting a higher rank in the SERPs.
On the other hand, by using external links, you can increase the authority of your website and make your content look reliable.
7. Write simple and SEO-friendly URL
Well-written URLs are the best tip for making a good SEO score and increasing website traffic.
How to optimize the URL of the web page? To optimize the URL to be SEO-friendly, you have to do the following steps:
Add the main keyword one time in the URL
Shorten the length of the URL by removing unnecessary characters and symbols
Use hyphens after every word
Just like an example given in the below image.

So, this is how you can make your URL SEO-friendly and simple, which will help the readers to remember your page.
8. Use Informative & Optimized Images
Images are an important part of optimizing your writing for SEO. Different visuals on a page can help convey information to the user and make your content flow more effectively.
Use infographics, checklists, templates, and other types of visual content to deliver value to your audience faster and more effectively.
The more valuable, engaging, and relevant your content is, the more likely you are to receive backlinks. Backlinks from authoritative websites increase the trustworthiness of your content in the eyes of Google. As a result, the search engine ranks it.
Another advantage of including images in any blog post or copy is that they can be ranked in Google's Images sections, as well as get into Featured Snippets and attract additional traffic.
Be sure to optimize your images by following the steps.
Reduce the Image Size: By reducing the size of the image, your pages will take less time to load
Create Descriptive Images Name: Using a descriptive and simple name is a much clear and more accurate way to show what it is an image about. Search engines cannot read the text in your image, but it reads the alt text or description of the image.
Relevancy: Make sure the image is relevant to the content.
Copyright-Free Images: Always use copyright-free images in your content. You can get such images from Pixabay or Pexels sites.
9. Delete Zombie Pages from Your Site
Zombie pages are those pages that generate little or no traffic. They may be indexed, and they may generate bot traffic from search engine crawlers, but they fail to attract views from real visitors.
Deleting your site's zombie pages can help you get more ranking and traffic.
Google said they favor "one stronger page versus many smaller pages." 
Few Strong Pages > Many Weak Pages
Search engines don't like zombie or no-traffic pages. These pages can adversely affect your company or website. To increase your website ranking, you have to remove them, and you will see a difference in the website ranking, and organic traffic. 
10. Post Unique Content Consistently to Enhance SEO
Creating and publishing unique and engaging content is challenging for most marketers and webmasters. The reason is posting unique content can help in improving the SEO of the web pages. It is even more important than you think due to the "fresh factor."
Unique content is an important reason affecting this freshness score and, consequently, the search engine ranking for that specific page.
If you have chosen to market your business online or want to increase your site ranking, then creating and publishing unique and engaging content isn't just an option—it is a must.
Conclusion
This article was about 10 SEO tips that can help you to increase your website ranking. By following these tips, there are chances for you to get a better SEO score and ranking on SERPs.
SEO has also become an important tactic for businesses with a digital presence. You have to find appropriate keywords that you can use in your content. Even if you are writing your own content, there can be a chance of duplication in your content. To avoid this, you can use online tools for checking plagiarism. 
Linking to other relevant pages or sites can also be helpful in increasing website traffic and ranking. Also, make sure to remove no-traffic pages from your website and stay consistent and publish unique content frequently.
Comment below if we miss any tips, and don't forget to mention your favorite tip.