The holidays are here and it's a great time for seasonal entrepreneurship. You can
start a business
, even a seasonal one to earn extra income especially during Black Friday, Cyber Monday, Christmas Eve, Christmas, Boxing Day, New Year's Eve, New Year, and their other cousins.
In 2017 US entrepreneurs, businesses especially retailers gave thanks, thanks to Thanksgiving and Black Friday sales put at $7.9b according to reports by Adobe Analytics, representing a 17.9% increase from the previous year. Cyber Monday 2017 was also expected to haul in around $6.6b in sales, the biggest at the time in US retail history.
In the East, Alibaba's 2017 Single's Day sales brought in $25b within 24hrs, nearly double of US Thanksgiving, Black Friday and Cyber Monday sales combined, that's over $1b per hour. For 2018 this figure rose to a whopping $30.8b.
The following Google Trends chart shows just how much of a big deal holiday shopping season really is which is a good sign for a smart entrepreneur.
30 Days Google Trends of Holiday Shopping Season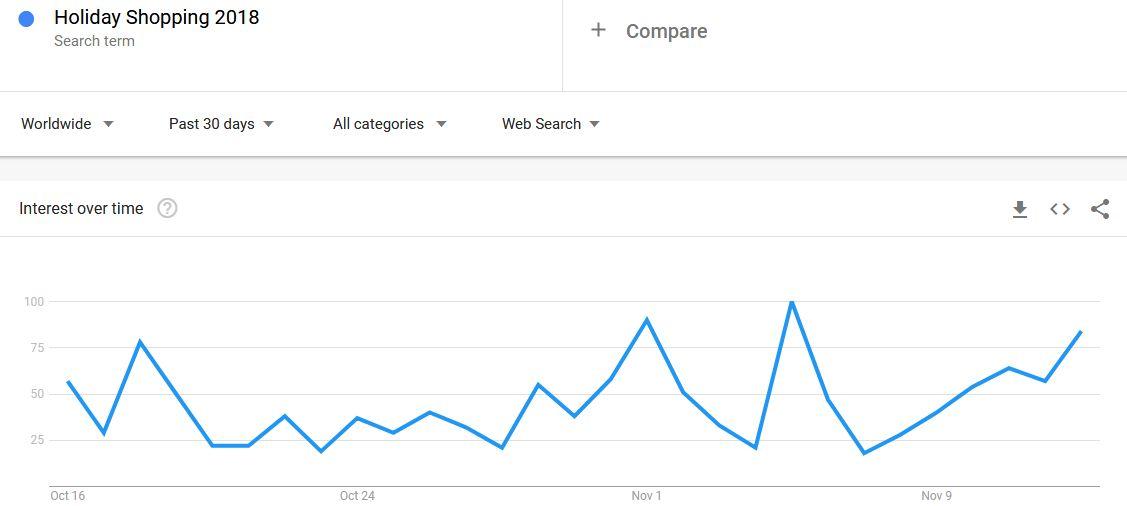 Source: Google Trends
From the charts above we see a sharp increase in search activity for holiday shopping-related queries. Holiday shopping lists, cards, events, discounts, jobs, etc are all trending among shoppers, retailers and entrepreneurs alike.
This season many brick n' mortar stores, mom n' pop shops, fulfillment companies may also need the services of warehouse workers, seasonal associates, retail associates, store security, holiday helpers, etc.
For the enterprising or intending entrepreneur, it's also a season for entrepreneurship as there are several e-commerce holiday business ideas to try and following are:
5 Reasons to Start a Business This Holiday Season
1.  Tis the Season
Entrepreneurs know the times. Halloween is past, Christmas themed music and movies are making the rounds. The weather too is not left out; it's getting colder as we warm up for the biggest sales season of the year.
2.  Customers are Anticipating
Reddit user r/freedommobile captures the feeling well as seen below: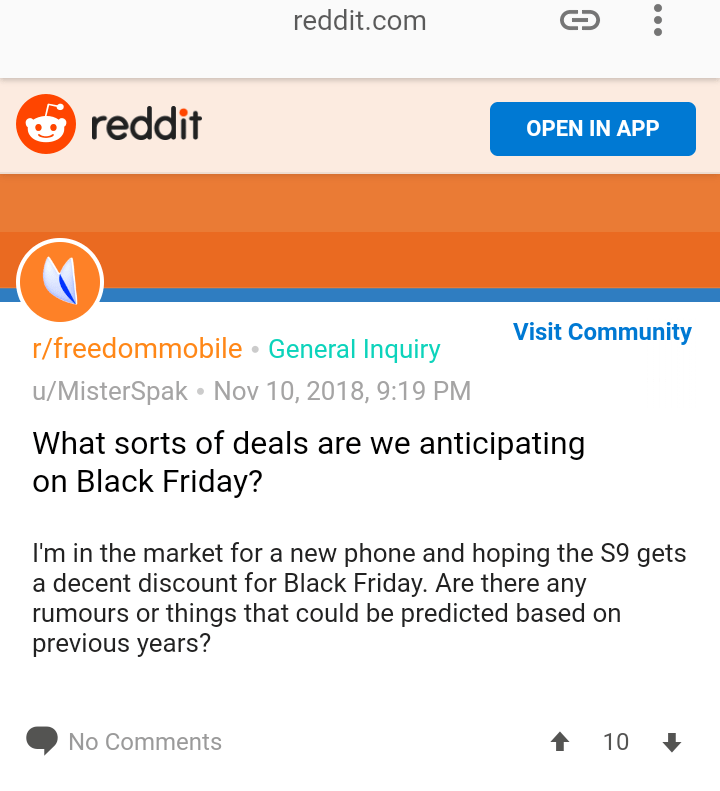 Source: Reddit
Some have been saving and stocking their mental carts all year round waiting to check out in days/weeks to come. Entrepreneurs are eager to make the sale.
Here's a chart showing black Friday 2018 searches in the last 30 days: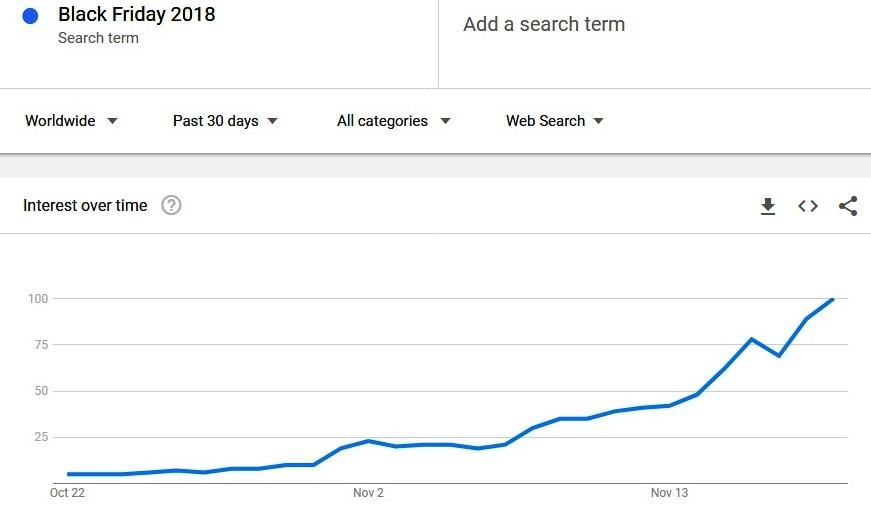 Source: Google Trends
3. Past Stats/History
Data based business decisions help entrepreneurs. The following table shows a summary of holiday season sales between 2008 and 2017.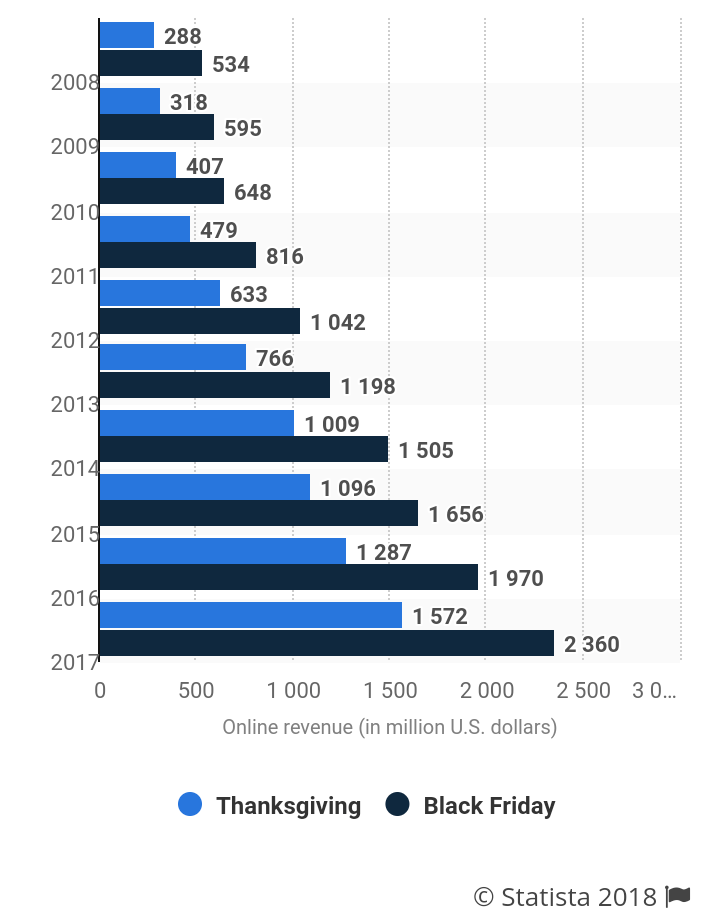 4.  2018 Predictions
And for 2018, Deloitte projects that consumers will increase their spending from $1, 226 in 2017 to $1, 536 per consumer in 2018, also that 78% plan to spend the same or more than last year.
In November eMarketer predicted the first $1tr holiday season come 2018. There are several other predictions to help fire the entrepreneur within.
5. Others are Warming Up
Toys R Us announced last June that it would be closing 700 stores but in a recent update say they'd be attempting a comeback. Walmart, Amazon, AliExpress, eBay, even your neighborhood corner shop are all preparing, and so should you as a smart entrepreneur.
Following are:
5 Tools to Nail Holiday Entrepreneurship
1. Data
It is important for entrepreneurs to know what is important to people or what is trending and sell such in-demand products or services. Data does this for you. Intelligent AI driven data can give you deep and actionable market insight. This will set you ahead of the competition.
Holiday sales are seasonal, smart seasonal entrepreneurs have no time for guesswork when data can do better. From data gathering to processing and analysis, every step needs to be carefully planned and executed.
2. Email List
After gathering relevant business or customer data it is also important to build a mailing list as many online entrepreneurs do. This will facilitate further communication and engagement with your prospects, leads or customers who have indicated interest in your products or services by signing up.
Similarly, if you have a special holiday or seasonal discounts, offers or announcements you can inform them quickly and cheaply or even for free using applications like MailChimp, Aweber, etc. A recent 2018 Litmus survey of 372 marketers put email ROI at 38:1.
3.  Content Strategy
Information helps shoppers make better-informed decisions. Building relevant holiday or seasonal content around your products, services or industry can bring you targeted organic traffic and referrals.
Ebooks, blog posts, infographics, videos and other hot in demand content can help modern-day entrepreneurs increase publicity, awareness, engagement, conversation, conversion, and loyalty.
This can include regular blog posts, guest posts on relevant authority sites, infographics, video, photos, etc.
4.  Social Media
Content created above can be shared or syndicated on all your social media handles with backlinks to your store or business website. With over 2.77billion social network users come 2019; social media continues to remain a relevant marketing channel that serious entrepreneurs can't afford to ignore.
Facebook, Instagram, Snapchat, Twitter, etc, are each packed with features that give businesses and individuals global exposure, publicity and coverage.
5. Reports
Reports help entrepreneurs or business owners track performance and results including returns on investment. Proper data interpretation will help you identify problem areas and areas with potential.
This will show you areas to optimize, increase or cut spending, explore or ignore. You can emerge from here with the benefit of hindsight which can serve as insight for future entrepreneurship efforts. Tools like Ahrefs, Google Analytics, Google Trends, Salesforce, etc can be of great help with qualitative digital competitive analysis.
Conclusion
Most seasonal entrepreneurs adopt a hit and run approach, hit a home run and run home. Others do it to build their entrepreneurship muscles waiting for the right time to go full time.
Whatever the case, these tips can help you become a successful entrepreneur, part time or full time.