Writing unique content
that can give tough times to the competitors is not an easy task. Bloggers write many articles to publish them, and most of the time, they have the same niche to discuss. It can confuse them as it is not easy to write unique words in every article. They may get puzzled while writing the content. 
To write different content from others, you have to read the article thoroughly and understand the author's concept. After that, write it in your wordings and make it unique and powerful from the original one. It is difficult for a blogger as he can't change the wording and structure of content every time. Plagiarism may occur at one stage if a person always continues to write the same article. To avoid such bad experiences and make the task easy, a person can use paraphrasing tools. These tools can be helpful to make exclusive and striking content that is never used by anyone before.
What are paraphrasing tools?
Paraphrasers or article rewriters are AI-based tools that read long articles and change their wordings instantly without changing their structure. These paraphrasers are very easy to use, and they can make the content 100% unique from the primary one. These paraphrasing tools leave the main memo of the context without changing the article's structure by adding new words.
Top 5 paraphrasing tools
Numerous paraphrasing tools can save the writer's time and generate individual content for them without any delay. It can be difficult for a user to select the best one. So, here we will discuss the top 5 paraphrasing tools for you. These paraphrasers will spin your article and make it 100% unique from the original one while changing their synonyms.
It is a top tool in terms of rewriting articles. It makes the content eccentric from the first one. Users can enjoy many features of this tool and can help make his text more charming and attractive.

Here are some best features of this tool that make it the best of bests.
Sustain the original text
The best feature of this tool is that it doesn't change the meaning of the whole context. When you paste your content in this tool, it will go to the words and change the synonyms there. The main theme of your material will remain the same.
Paraphrasing at the human level
Results generated at the end can be understood by anyone quite easily. Likewise, sentences generated by this tool are pretty easy to understand by everyone. This tool rewrites the articles at a human level and makes them very simple.
Paraphrase the text anywhere
A person using this tool can paraphrase his data anywhere. Either he is using a mobile device or web, he can quickly rewrite the data. Other than windows, you can use it on android or iOS that also supports this tool.
Multiple styles of paraphrasing
The most innovative feature of this tool is that it can spin data in multiple styles. If you are willing to change synonyms only, you can use the simple mode of this tool and make small changes to it.

But if you want to change the content thoroughly and change lines, this tool provides a feature of creative mode. Here a writer or blogger can uniquely rewrite the text and make it different from the original one.
This paraphrasing tool uniquely rephrases the content by changing the meaning of words without changing their structure. A user can get some extra results from this tool that can help to attract more audiences toward this tool.
Here we will discuss some best features of this tool that make this tool different from others.
Absorb the reader's attention
This tool creates a different and amazing text for the reader seeking their attention and engaging them to read the new context generated by this tool. This thing makes it more amazing and places it in the best paraphrases list.
Boost writing career
A blogger can boost his writing career by using it. Like other best tools, it also provides different types of writings that can help the writer.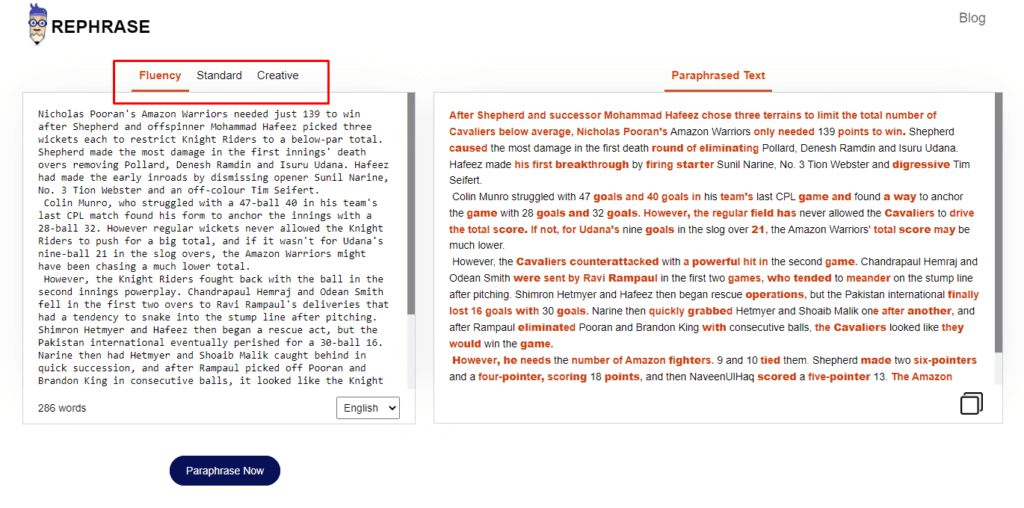 So, one can get a different idea of writing from these paraphrasing tools and improve writing skills.
Secure to use
Privacy is the priority of everyone, and a user will ask for safety issues before using any new gadget. This tool makes the users comfortable and keeps their data secure while they use it.
Attract the audience
Due to the amazing features provided by this tool, the audience gets easily attracted and trusts this tool. Features provided by it are not available in every tool that makes it more attractive. 
Bloggers can trust this tool as it generates the content without any plagiarism and makes it 100% different. This paraphraser provides all the necessary features that are needed to generate unique content.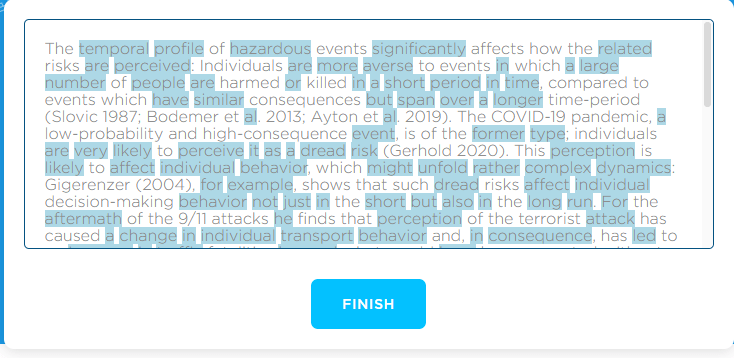 Let's discuss some best features of this tool that place it among the top article rewriters.
Natural flow
The best thing about this tool is that it makes content naturally flow, free of grammatical mistakes. Readers can easily understand such articles and read the content with good consideration.
No-duplication
If a reader gets the same thing to read every time, he will ignore your text and find something new. This rewriter can make unique content with no duplication in it. So, it provides a reader with something new to learn.
Correct grammar
If an article provided by a user has some grammatical mistakes, this rewriter will somehow remove those errors and make it more readable. So, a new text provided by this tool has no grammar error that increases its readability and makes the flow better.
Different formatting styles
Bloggers or writers can use different formats in this tool while writing and changing the article's text styles.
This free SEO tool that helps make the content free of plagiarism has some best features that make it reliable and comfortable to use. This tool is compatible with every browser that makes it easier to use. So, let's discuss the best features of this tool here.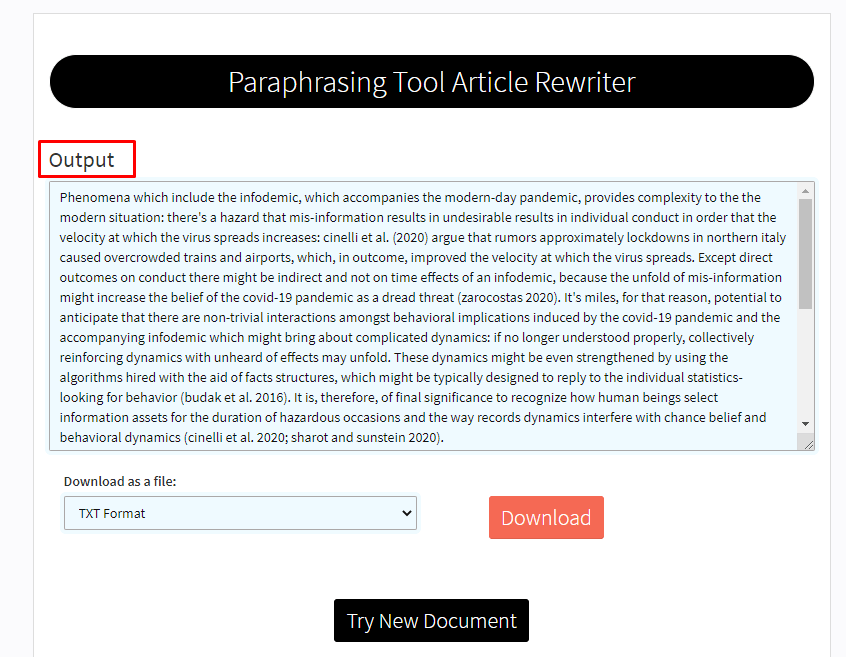 No signup
There is no need to register yourself before using this tool. You can use it even without registration. It provides the result to users without signup. 
Multiple languages
If a blogger wants to publish his blog in another language, he can change the language. This tool supports multiple languages, so you can also get the results in languages other than English.
No premium subscription
All of the features of this tool are free, and users can avail of them without any premium subscription. There is no need to pay for the extra features as you can get all of them for free.
Compatible for every browser
You can use this tool on every browser quite easily as it is compatible everywhere and is supported by every search engine. 
This tool can save the time of users and make their workflow faster. Moreover, this tool is more reliable due to the safety concerns that it provides to users.
Let's discuss the best features of this tool that place it at the top of the list.
Safe to use
The best thing about this paraphraser is that it doesn't harm the data of its user. So, the data of writers remain safe in this tool. This thing makes the tool more reliable, and people trust this tool without any hesitation.
Unique content
A user will get different results that will benefit him to attract more readers to his page. So, one can trust this tool in this term and make his data different from all others and engage the audience quite easily.
No plagiarism
The text provided in the end is free of plagiarism. This tool tries to make different content without any duplication. This thing keeps it safe from plagiarism and helps to make the article new for the reader.
Accurate and fast
Bloggers can get instant results from this tool with no delay. Moreover, the obtained results are accurate without any error. So, writers can save their time and get a perfect result without any mistakes in no time.
Conclusion
Readers always demand something new. So, if you provide them with the copied data without any changes, they will never trust you. Always keep data unique to win your reader's trust and provide them with material that can enchant them. To write exclusive articles, writers can use these paraphrasing tools to help them write unique content quickly. Bloggers can save their time and effort and avoid plagiarism in their articles by using these valuable tools.