If you want to create a video for reporting bugs while
testing software
, you can record windows screen using any of the screen capturing application for showing your activities. You can also record windows screen for creating video tutorials to show "How to" steps, for creating product demo video or the software and for recording your gameplay to share on social media,
video sharing or streaming sites
.
You can record windows screen with different types of applications such as offline desktop applications, online screen recorder or browser extensions. In this article, I have listed free tools that are available for recording windows screen.
10 Free Tools to Record Windows Screen
The following are the best and free tools that are available for recording windows screen.
1. MovAvi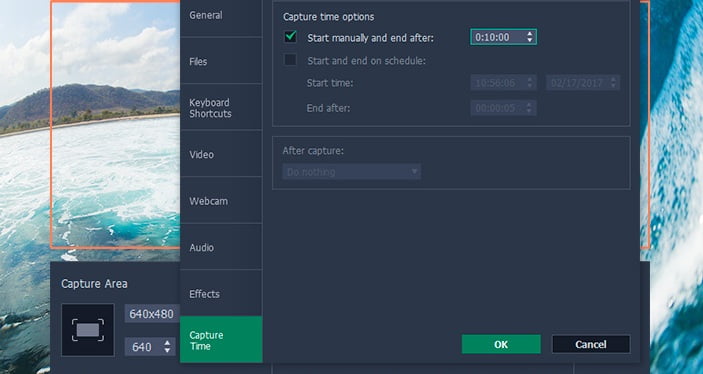 MovAvi screen recorder is the best tool to record screen capture, editing the recorded video and saving it to different video file formats such as MP4 MOV and AVI. You can download a free version of the screen recorder as a trial and use your laptop or desktop screen. This tool is available for all types of devices such as windows, mac,  ios or android. You can easily capture screen activities, skype calls, live streams more easily and convert them to the desired format. As well as the free trial version, a pro version also available if you want no watermarks and unlimited recordings. 
2. ScreenPresso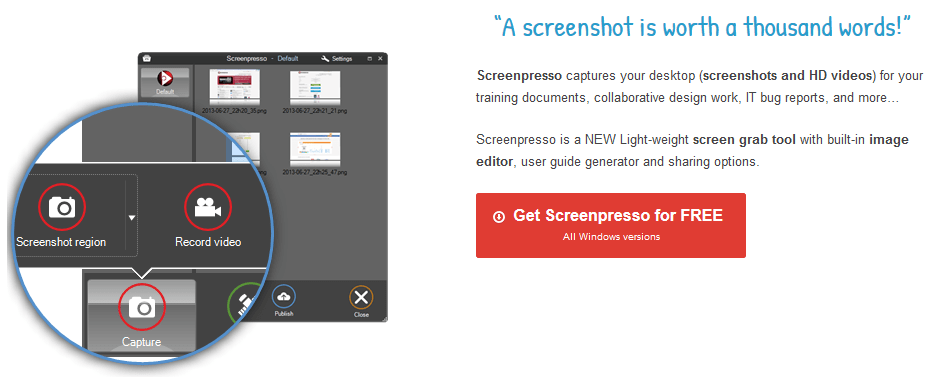 ScreenPresso captures your desktop screen in a video and produces the lightweight MP4 video to make it easy for sharing. You can also capture recordings from webcam and audio from the microphone. It is included with the built-in editor which allows you to edit your capture easily and also allows you to publish your capture on different formats. It is available with multilingual support and available for all of the windows versions. A pro version also available, if you want more advanced features such as system sound recording, full-featured image editor, multiple workspaces, OCR, bar-code and QR code reader.
3. CamStudio
CamStudio recorder is the open-source software for recording your screen and audio activity. It will create industry-standard AVI  video files and also allows you to convert into SWFs. You can record audio from your microphone or speaker but If you don't want to record any audio you can also disable audio recording. You can also set the region where you want to record or can set to windows or full screen. This application is available on free for both personal and commercial projects.
4. Free Screen Recorder

Free Screen Recorder is a full version screen video recorder or screen capture tool that can be used with downloading and installing it. It allows you to record all types of regions such as windows, desktop or fixed regions.  You can record all of the screen activities including onscreen changes and mouse movements along with adjusting audio settings.  It will save recorded screen videos as .mp4 video file and screenshots in BMP, JPEG, GIF, TGA or PNG format.
5. TinyTake
TinyTake is another best tool to capture screen images and videos that are available for both Windows and Mac. You can capture, save locally and share webcam recordings along with screen videos. It also allows you to upload recorded videos to YouTube,  annotate the videos and move the annotations on the video frame to point out a part of the video.
6. ScreenCast-O-Matic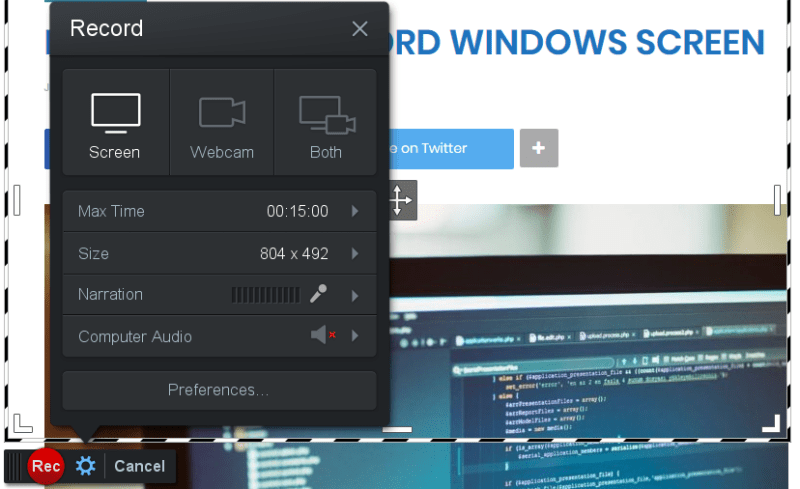 The screencast-o-matic recorder is lightweight and easy to use screen recorder tool that can be launched directly from your browser without installing on the computer. This tool allows you to capture computer screen, webcam and voice to create video tutorials or demos of the product. You do not only use this tool to record screen videos but also able to edit and share them.
7. Ezvid
Ezvid screen recorder is the completely free video editor and screen recorder software for recording your windows screen activities. You can easily create the videos, edit with the awesome video editor and easily share the videos on YouTube, Facebook, and other social media networking sites. You can draw on your screen, including system music and easily control video speed while recording the screen.
8. IceCreamApps
IceCream Apps screen recorder is a software tool that enables you to any area of your computer screen and generates the video file.  You can easily record the video and share for creating video tutorials, recording playing games and creating the review of any websites, software or any product you want to promote. Since the free version of the screen recorder allows you to record up to 5 minutes only and unable to convert recorded videos. You can upgrade to Pro version by paying the little amount as one time fee if you need to record a video for more than 5 minutes and want the video on other more formats.
9. BandiCam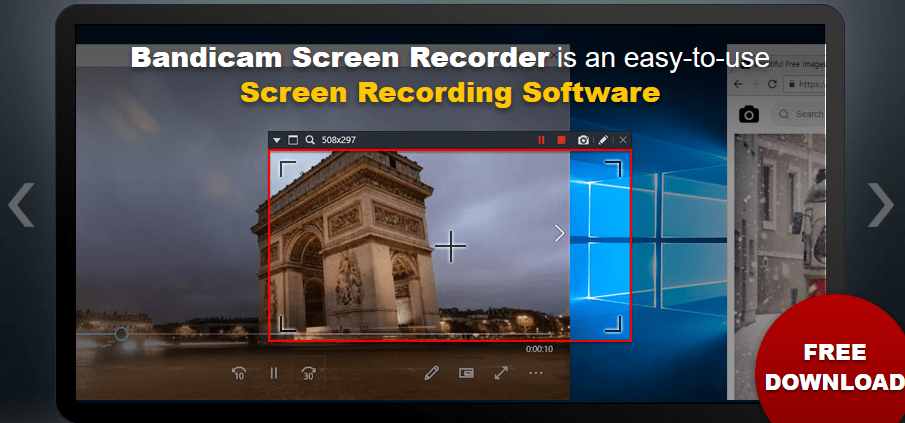 Bandicam screen recorder is easy to use screen recording software that allows you to capture your activities anywhere on your computer screen. You can capture both the screenshots and screen videos as your requirement. Along with basic screen recording features, it allows you to draw outlines, mix your own voice, add logo and mouse effects on the video. If you have subscribed for a paid version with paying the one-time small fee. You are able to remove the brand watermark and able to record for unlimited time.
10. SRecorder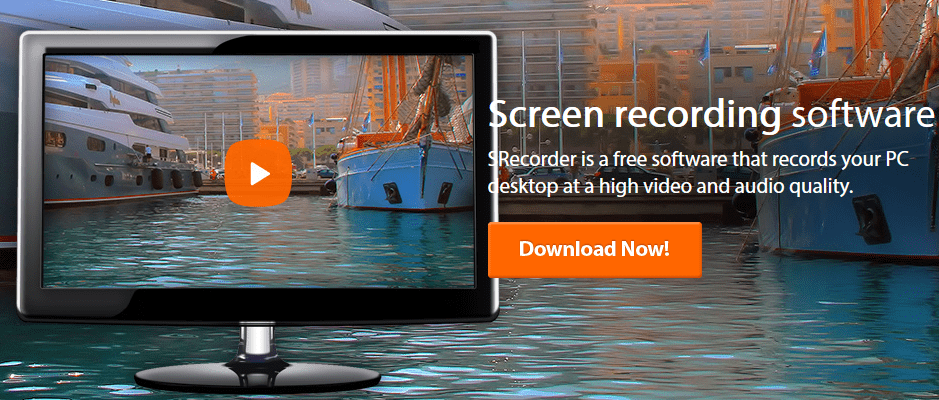 SRecorder is completely free to use screen recording software that helps you to record high-quality screen videos from your windows screen. You can immediately start to record your desktop or laptop screen with easily downloading and installing it without completing any registration process.  It also allows you to include sounds using the microphone or any other audio input devices while recording screen video.
If you are starting to work as a software tester, blogger, teacher, digital marketer. I hoped that this list of free tools to record windows screen may help you to a lot for creating any video tutorials, reviews, and demonstrations.
Read Next: How to Get Browser Console Logs While Testing Website