Managing a business's IT
ecosystem isn't a walk in the park.
Apart from making sure every device in your business network works properly. You also need to monitor your entire IT infrastructure for cybersecurity vulnerabilities.
Cloud Management Suite is a holistic IT management software that can help keep your organization functional, efficient, and secure.
It doesn't matter if you're the IT manager of a large business with thousands of endpoints or a startup that depends on a BYOD policy. CMS allows you to pay only for the features you'll use — for the specific number of devices in your network.
As the name suggests, the platform is also completely cloud-based, which keeps costs down and makes deployment an absolute breeze.
However, cost viability is never enough to justify a new software investment. You should also look at the individual features and the value they can deliver to your business.
Let's check out what CMS has to offer.
1. Organize Your Entire IT Inventory in One Place
First and foremost, giving you a bird's-eye view of your entire IT infrastructure is one of the main goals of CMS.
From the main dashboard, you can launch a "Discover" task that detects every single device connected to your network in one fell swoop.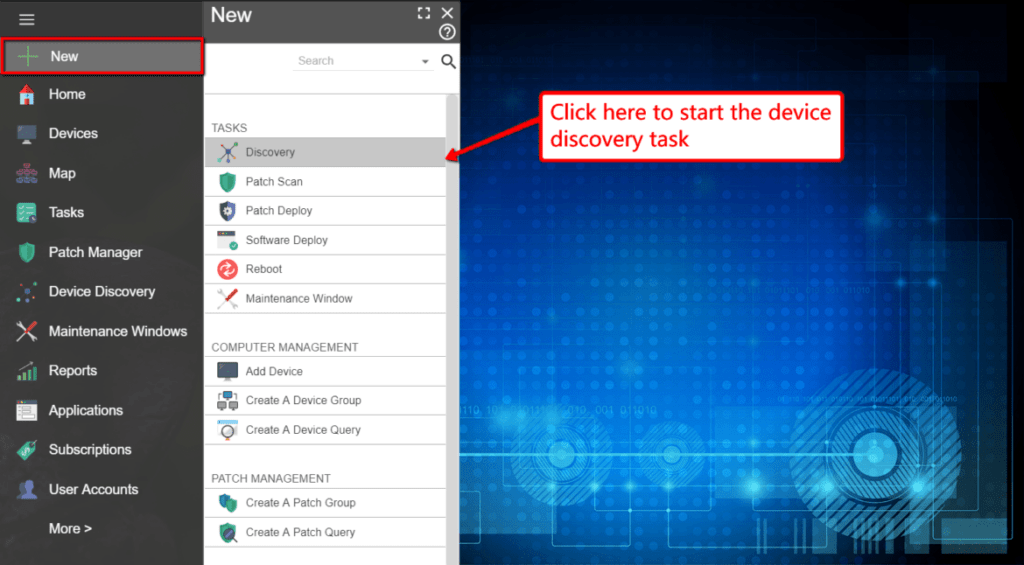 If this is your first time running a discovery task. There are a few things you need to configure first, such as the sites and IP range you wish to scan and the administrator accounts in your network.
After the discovery, you may head over to the "Devices" section of the dashboard where additional information like vulnerabilities, errors, and the OS breakdown of your environment can be found. There's no need to wait for member feedback or plan on-site visits to ensure the state of every IT asset.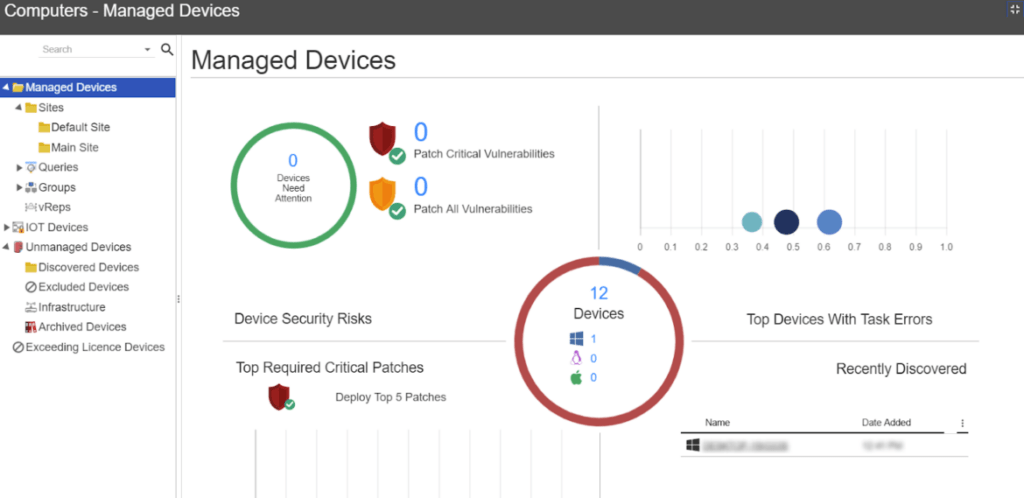 Want to group multiple devices into groups for better visibility?
With CMS, you can create groups for endpoints, sites, or queries and assign members on the fly. Devices are also automatically grouped into sites or networks using their IP addresses.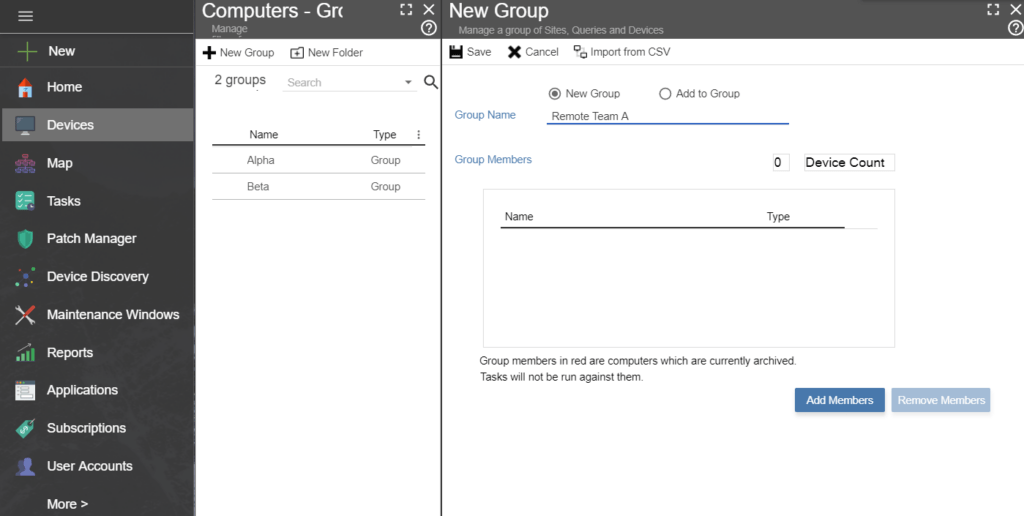 2. Automatically Deploy Patches to Every Device
Always remember that a hacker only needs one attack vector to access your network and wreak havoc on your systems.
CMS will enable you to proactively defend against these attacks by patching software vulnerabilities across your business network from their one cloud-based platform. In a glance, you can identify all the devices and software in your IT ecosystem that require updates — be it an OS, web browser, security tool, and so on.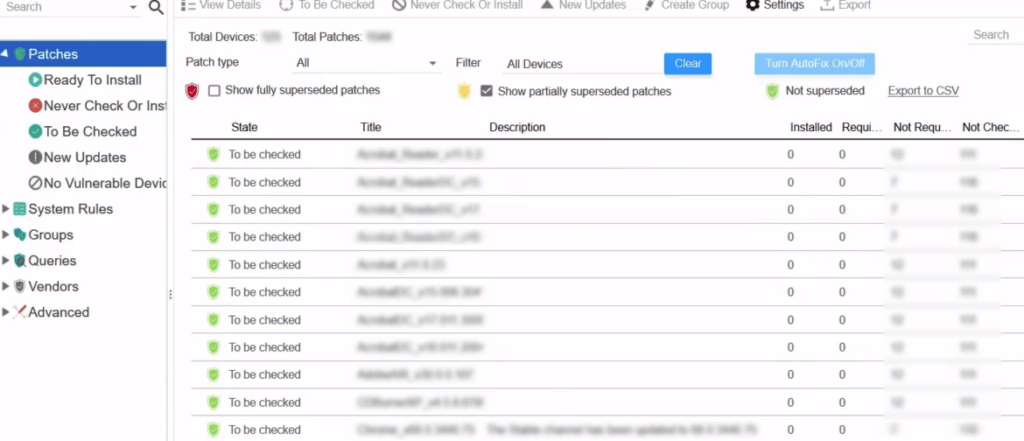 Apart from monitoring all available updates, CMS also allows you to roll them out to all devices via a handy "Patch Deploy" tool. This can be launched by navigating to the "New" dashboard page and following the on-screen steps. You can select your target devices to configure reboot options.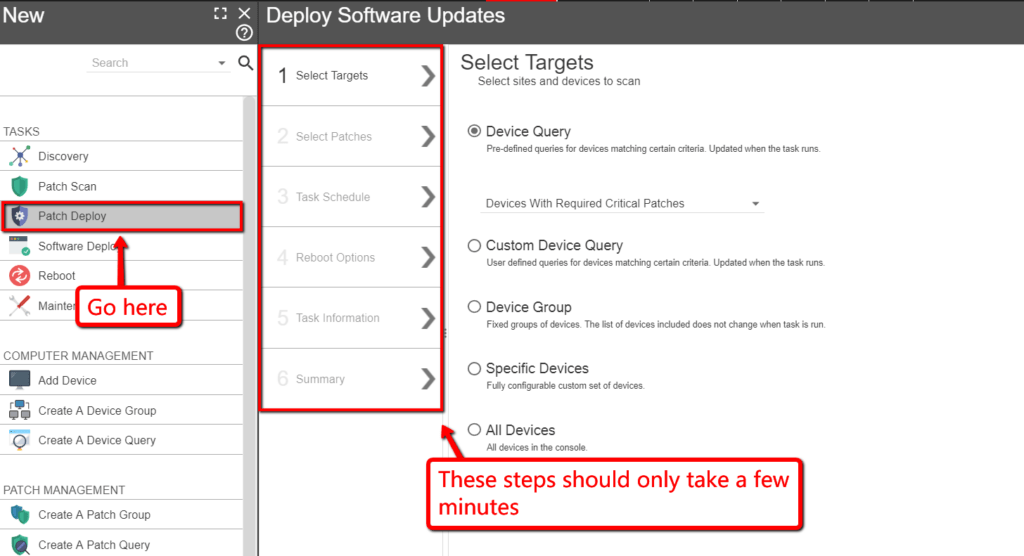 3. Hassle-Free Software Distribution
If you require members of your organization to use certain pieces of software, you don't have to wait for them to perform the installation. Just like patches, you can also automatically distribute new software to all devices in your network using CMS.
The process is equally as effortless as well — simply click "New" to find the "Software Deploy" tool and follow the instructions.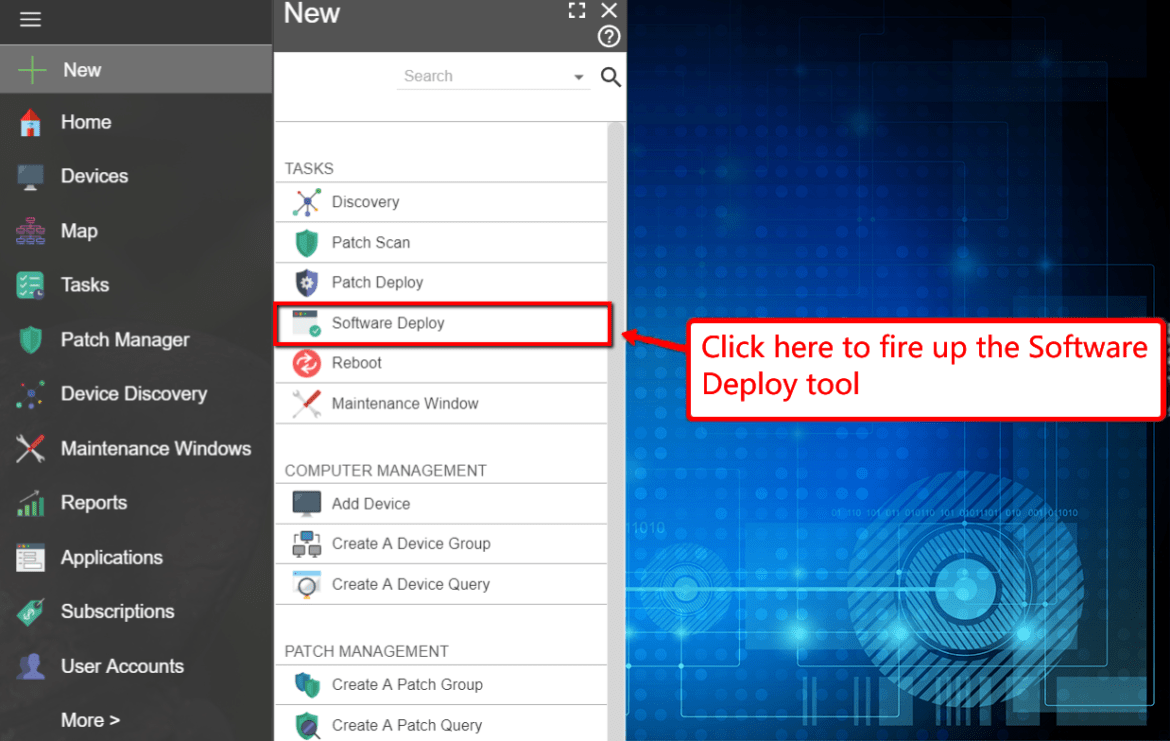 For the actual installation process, CMS can use software packages from the cloud or a local storage device. These installations can also be done on the "Applications" page using the "Create Application Wizard."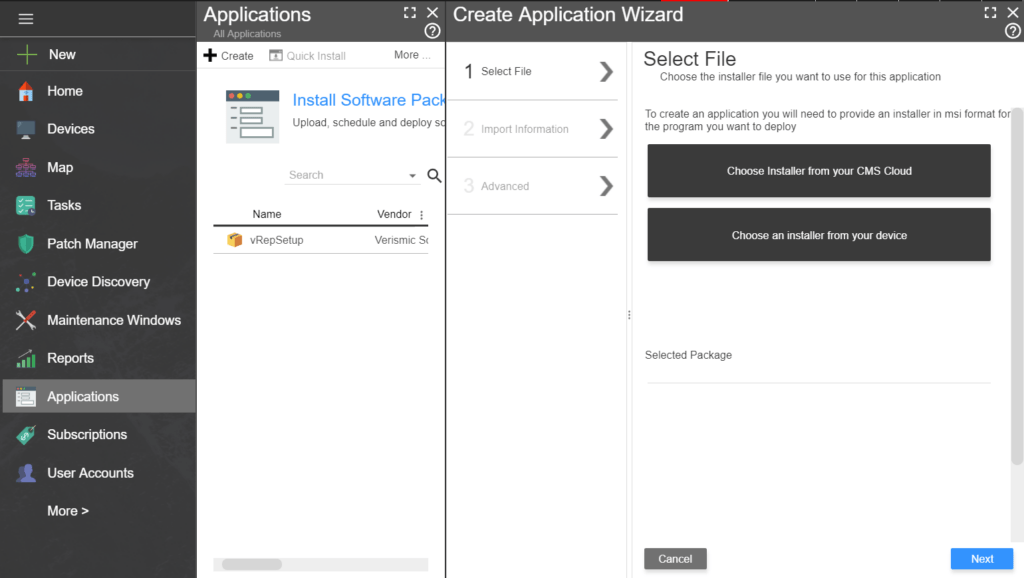 4. Take Advantage of Real-Time Security
When it comes to cyber-attacks, time is of the essence.
Without a dedicated response team, the cost of a successful cybersecurity breach can be crippling to small businesses. In fact, statistics show that 60 percent of all small businesses collapse completely within six months of an incident.
As far as cybersecurity goes, CMS has plenty of tools that can help secure your IT infrastructure. The centerpiece, however, is the real-time monitoring of your security applications, such as BitLocker and Windows Firewall.
Additionally, CMS also detects any malicious process running amok in your business network. You then get the option to instantly kill the process for all affected devices at once.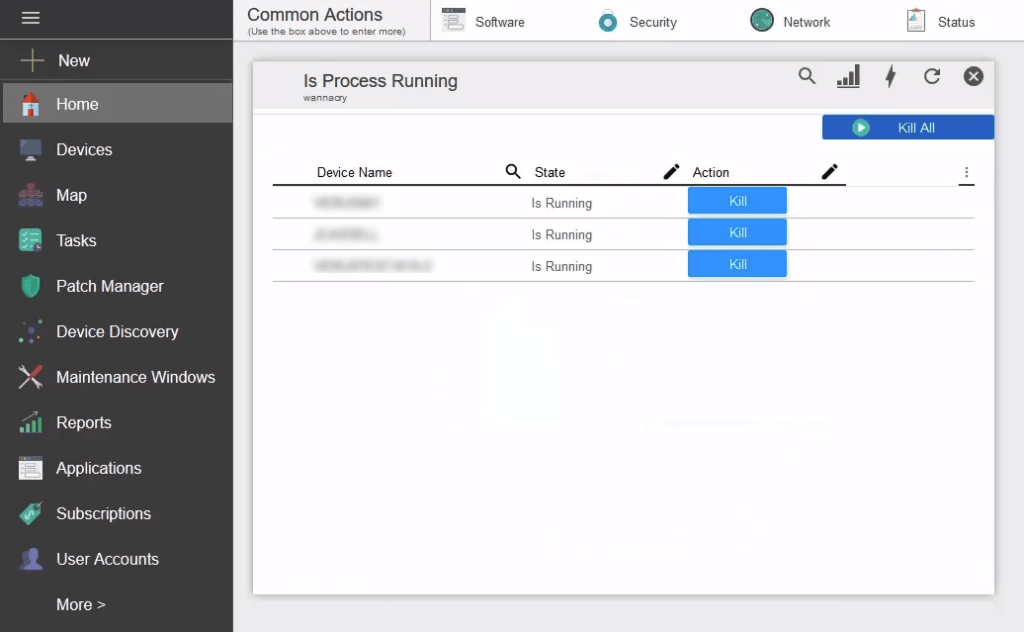 5. Simplify Reporting for Compliance
When looking for an IT management platform, you can't ignore the importance of compliance with the rules and standards set by authorities.
With the CMS reporting feature, you can quickly generate compliance data reports while you focus on your core business. Everything — from device vulnerability over time to your business network's OS breakdown. They are immediately reported and consolidated in the "Reports" section of the dashboard.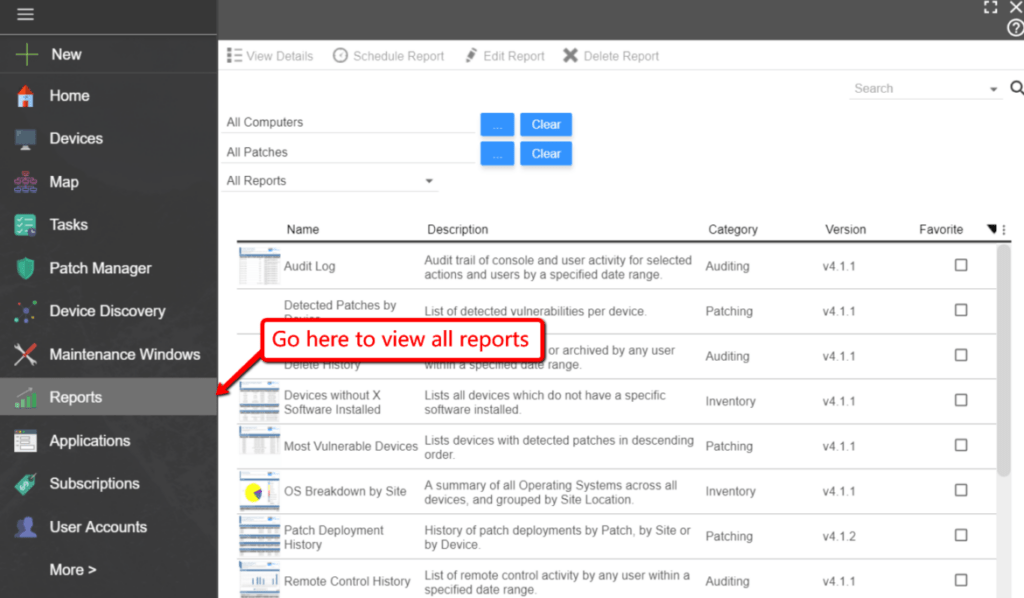 To further streamline the reporting process, you can schedule automatic reports to be sent to you by email. You just need to select a report, launch the "Report Scheduler" tool, and configure when and how you want it delivered.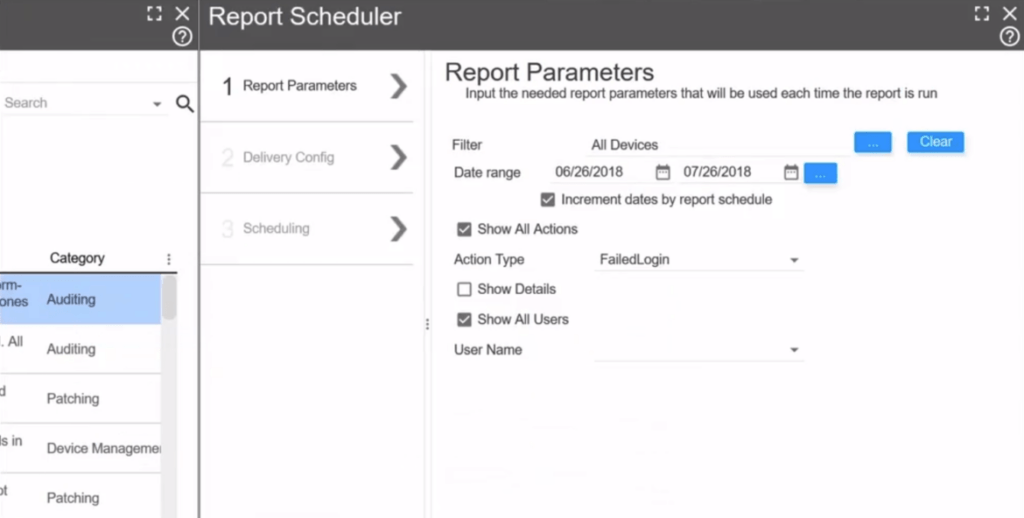 Aside from compliance, detailed reports are also crucial to help you make data-driven decisions that can grow your company. They should help you identify recurring problems with certain pieces of software or devices in your IT infrastructure as well as come up with long-term solutions.
6. Make Your Backend Impenetrable with Two-Factor Authentication
If there's one thing you must protect against unauthorized access, it's your IT management software.
Just imagine the damage a hacker can do if they gain entry to a platform that can influence every other device in your business network.
What methods can they possibly use to force their way into your systems? A few examples are phishing, keylogger injections, and brute-force attacks — all of which can be averted with a simple two-factor authentication protocol.
Here's how it works: whenever a user makes a login attempt, they will be asked to complete an additional verification step. It usually involves the input of a one-time password sent via SMS or email. Fortunately, that's exactly how CMS works to keep hackers out of your IT management platform.
The Verdict
To say that Cloud Management Suite is a comprehensive IT management tool is an understatement.
Not only does it have everything you need to manage your entire IT infrastructure effectively it's also equipped with features that can help you keep your devices and data secure. And with its flexible pricing, it's definitely worth checking out for digital businesses of all sizes.