Have you ever been around the eCommerce or
WordPress
industry? If yes, you've surely heard of WooCommerce as the easiest way to create an online shop. But did you know that one-off purchases are not the ONLY model that is supported by this platform? Using the WooCommerce subscriptions plugin, you can create a subscription-based model that allows to you pay using recurring payments for a variety of things. It may be physical products, services or even virtual goods such as download and/or music. A subscription model focuses on getting repeat business from the same customers without added complications because the billing is done automatically. This can enable your business to earn a more residual revenue that you can rely on.
How to create recurring billing using the WooCommerce Subscriptions plugin
While there are plenty of great guides about how to set up WooCommerce subscriptions on such sites as Collectiveray, we will show you that this is a relatively simple procedure.
If you are planning to set up Subscriptions, you will need to have a subscription-based business (membership website, magazine, subscription box, club, church etc.) which can easily be set up using a free WordPress theme plus, of course, the WooCommerce plugin. You will also need to make sure you have access to a payment gateway which works with the WooCommerce subscriptions plugin such as PayPal and Amazon pay.
To use this automated subscription model profitably, more than the actual plugin, you will need to focus on providing quality products or services. Subscriptions are essentially meant to augment your subscription-based business by collecting the recurrent payments automatically. On your end, as a business owner, you have the task of focusing on the clients so that you retain them for as long as possible (reducing customer churn is key to growth in a subscription model).
To be able to do besides providing quality goods, services or content (as the case may be) you also need to take on board customer input so as to tailor your solutions for a more permanent client-provider relationship.
WooCommerce subscriptions plugin features
This plugin for subscriptions contains a number of useful features that include:
1. Free trials
Most customers will need to try before they buy and there's nothing better for a customer more than the mention of the word "free". The WooCommerce subscriptions plugin enables you to provide free access to your subscription site for a limited period of time, or days, before billing the client. This feature will surely help you attract new customers as they are able to try out the quality of your products and/or services before committing.
(Providing a 30-day money back guarantee is also a great way to give users peace of mind)

2. Variable subscriptions
You can also create different subscription packages, based on a variable such as the quantity of the product or features of the service you provide, giving you and your clients flexibility. For example, a downloads site can have the number of downloads as the variable, or a subscription box can have the number of products. The plugin also allows clients to set up customized billing schedules, giving them more flexibility when they subscribe.

3. Subscription management
As the manager of the business, in the WooCommerce back, the subscriptions plugin gives you a fully featured management portal that lets you manage everything:
● change trial periods,
● cancel subscriptions,
● add items to the subscription package
● as well as increase subscription fees or prices amongst many other features.
This ensures you can manage the business as well as its income levels easily.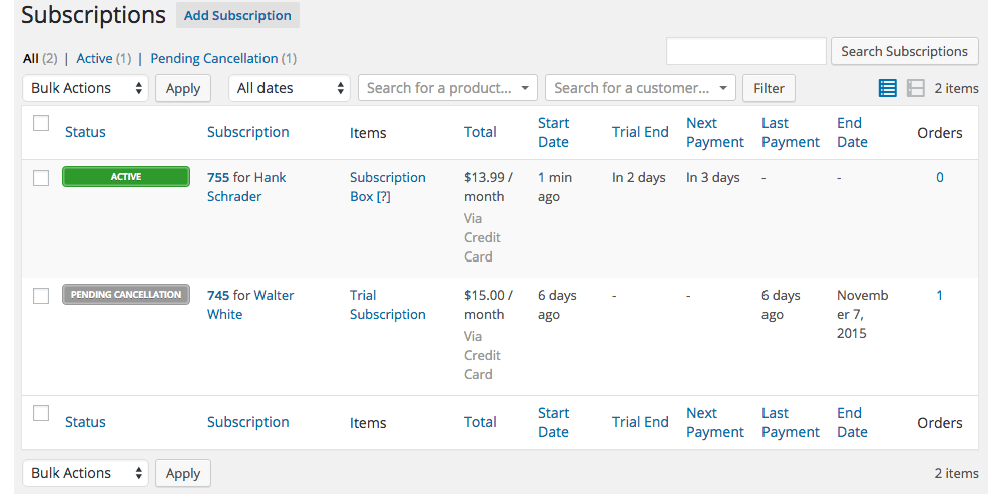 4. Define multiple subscriptions and/or bundles
The subscription model also uses the concept of bundles. It allows your customers to purchase different subscription services or products in the same transaction. By grouping them together, you can offer your customers reduced prices and discounts, whilst also increasing your total revenue as a result.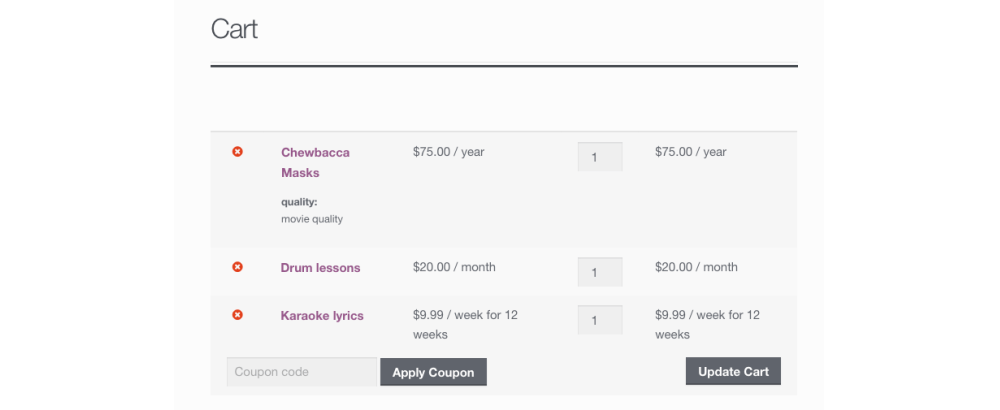 5. Subscription discounts
Just like we mentioned in the previous section, you'll find that discounts are a good way of appreciating your loyal customers – and show them that you value their business.
The WooCommerce subscriptions plugin enables you to provide monthly discounts to such customers so as to maintain a healthy relationship with them.
Business Tip: when offering discounts, I would recommend that you offer them on bundles of subscriptions, such that you are actually making an upsell (more revenue as opposed to less)

6. Customer notifications, reminders and communication
To maintain a good relationship with your customer base, it is important to keep always keep them in the loop about anything you do. This is especially when it comes to their money (i.e. when you are charged).
The WooCommerce Subscriptions plugin has a customer emailing feature that automatically notifies your customers
● whenever a renewal payment has been successfully processed,
● subscription is canceled
● or when it has expired.
The latter, of course, is important such that you can send special renewal offers, to make sure you keep the business going.

How can you use the plugin?
You can use WooCommerce subscription plugin in a wide variety of businesses such as:
An education company that provides online training services, video courses or webinars. It can use the plugin to provide trial periods for training, possibly to restricted areas of the site. After which the clients will get charged automatically and periodically to access the full section of training.
Online journals, magazines or newspapers that deliver the content daily or weekly, with automatic monthly billings to the clients. This is especially useful in niche industries, particularly scientific or academic.
Subscription box businesses that ship products such as coffee, beauty or makeup products, or other consumables such as wine, chocolate or other food items at fixed time periods to regular customers. These can use the WooCommerce plugin to collect the recurring payments.
Recurring services such as web hosting, storage providers, even website maintenance and SEO can also use this plugin. Since it helps them focus on improving their services as opposed to revenue collection.
These are just a few examples that show how WooCommerce subscriptions plugin can be used. The good thing is that this model is absolutely compatible with WooCommerce. The above businesses can be created using the WooCommerce plugin – bringing you unlimited potential towards the growth of your business.
Conclusion
While WooCommerce subscriptions plugin is a fully premium WordPress extension (on top of a free product). Some online store owners might not be too sure about whether this makes sense for them. In this guide and using the features shown above, the benefits of using the extension should be clear enough. We absolutely feel that this is an extremely powerful business tool which will surely help you grow your revenue stream over the long term.