Are you going to use copied content in your marketing campaign? Wouldn't it affect the credibility of the content?
Plagiarism is an act that is never tolerated in any field because you use the ideas of others and present them as your own.
If we specifically target content marketing, it is quite a sensitive field where you always have to keep the content unique with paraphrasing for the sake of generating unique content.
Sometimes, you may not have enough idea about what you have to add to the content to make it informative and appealing to the audience. 
So, in this situation, you get help from the ideas of other marketers and apply their strategy to your content.
It will! And for it, you need to rephrase the content first and make it unique from the original content that you are copying from other resources.
Using this technique, you can easily make changes in the lines and make the new content 100% unique from the original piece of text.
How to Paraphrase the Content Quickly?
Now the question is how you can rephrase the content. 
Will you be able to get new content with the actual context?
Yes, it is possible. 
You can rewrite the marketing content in a couple of ways that include manual paraphrasing and online AI tools.
Both of these methods are quite effective as they can help you recreate a new version of content without disturbing the actual intent of the article.
This is a must-have skill that every blogger and marketer needs to learn as it can help in increasing the worth of the content and make it more valuable.
In this article, we are going to talk about both methods of paraphrasing in detail and tell you the way that can make your content unique 
Read Also: 5 Paraphrasing Tools That Help Bloggers to Create Unique Content
Online Paraphrasing Tool
Using an online paraphrasing tool is one of the most effective and quickest techniques for avoiding content duplication that can be used for recreating the content and making it more engaging for the audience.
You just have to upload the content to this online tool and select the mode of paraphrasing according to your needs.
This online tool makes sure to provide you with a new variety of content that is 100% unique and easy to read for the audience.
Furthermore, this online tool makes sure to provide you with new content that will have the same meanings but a different structure.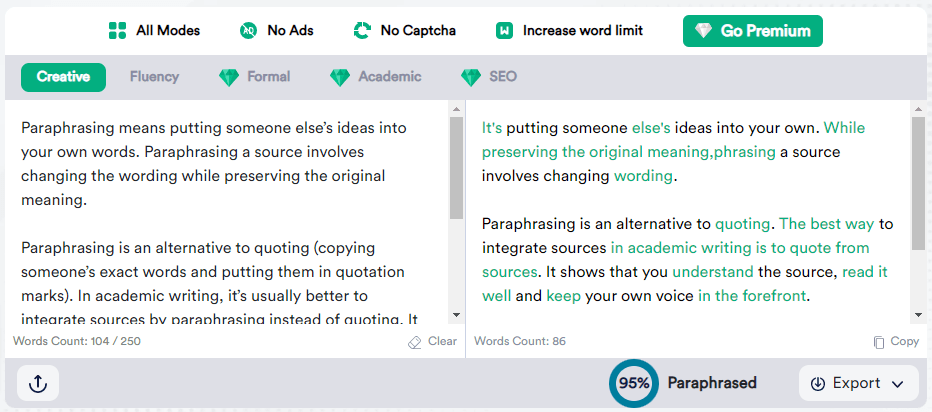 Benefits of online paraphrasing tool
By using an online paraphrasing tool, you can make your working speed fast. This AI-based tool makes sure to provide you with new content in a few seconds and saves you a lot of time and effort.
The synonym library of the online paraphrasing tool is very huge which helps it in creating new content and avoids any plagiarism factor.
AI-powered paraphrasing tool makes sure to polish the quality of the text and make it more engaging for the readers.
One of the best advantages of using an online paraphraser is that it comes with multiple modes of paraphrasing that make this tool equally usable for marketers, writers, bloggers, and students.
The content created by an online paraphrasing tool is always easy to read and understand. This online tool never uses difficult terms in the content that can make the lines difficult for the readers.
Manual Paraphrasing
Many individuals don't trust online paraphrasing tools and always look to rewrite the content manually and try to make the content unique in their own style.
This is also an effective way of rewriting the content and making it unique from the original piece of content.
However, you must have an idea of how you can paraphrase text manually and make it unique from the original blogs.
Furthermore, it is also important that you have a good vocabulary that can help you recreate the content without disturbing the actual intent.
Benefits of manual paraphrasing
Using the manual paraphrasing technique, you can easily brainstorm ideas and polish your creativity skills. This method will let you recreate the content in a unique style without making it plagiarized.
While you have to rephrase the content manually, it will give you a better understanding of the content that you are going to rewrite.
In manual paraphrasing, the chances of plagiarism get low because you make changes in the content to give it a different look from the original piece of content.
Effects of Plagiarized Content
So far, we have talked about the top ways that you can use to rephrase the content and make the marketing content unique and engaging.
It is also important to note how plagiarized content can affect your branding and marketing. Therefore, we are going to talk about the effects that content duplication can cause.
Damage of Reputation
Brand reputation is the most important thing that you have to focus on while promoting your content. 
If you do have not a good status in the digital market, no one will bother to spend time on your website.
Plagiarized content always affects the reputation of the website and leads to reduce trust factor of the audience.
Impacts SERP Rankings
If Google finds plagiarized content on your website, it will reduce the ratings of the page and take it to the bottom.
So, even if you create unique and engaging content, it will take time to boost the content on the SERP.
Loss of Target Audience
People always look for something unique and if you are providing them the copied content, they will never visit your page again.
That means you will lose the trust factor of your audience and they will avoid coming to your page next time.
Bottom Lines
Plagiarism is the worst thing that can impact the marketing campaign badly and also reduce the ratings of the content on the search engine.
The best way to overcome this issue is by paraphrasing the lines and giving them a unique look to avoid content duplication.
This is a must-have skill that every content marketer needs to learn.
The content can be paraphrased manually as well as with the help of an online paraphrasing tool. 
However, if you are looking to get quick and perfect results, you can go for an online tool.