A
PDF
reader is a software that serves as an ultimate solution for people who want to read, edit or organize PDF files. It can be used on various devices including a PC, smartphone, or tablet. There are many types of PDF readers that you can download from the internet and enjoy reading and
editing PDF files
.
What Does PDF Reader
That's not all, PDF readers not only let you read and edit PDF files but
you can do a lot more than that. It also allows you to create, merge, compress, split, manipulate, print, and convert pdf files. This software will do the following tasks as given below.
Read E-Books
A PDF reader's specialty is eBook reading. People who love reading eBooks on devices have the luxury to do it using PDF readers. The reading experience that a PDF reader provides is something you won't find on any other type of software.
When you have the reader software for reading pdf files, you won't have to buy an eBook reader separately because it not only does all the tasks that a simple eBook reader does, but it can do more than that.
With a PDF reader, you can adjust the size of the font as you like, highlight quotes, or your favorite sentences, etc. Moreover, you can also leave comments on individual pages.
Different people love reading eBooks in different ways. Some want enhanced text while some want their page to fit on the entire screen so that they won't have to adjust the page until they've read it whole. It let you read in any way you like because its aim is to give you the best experience when it comes to reading eBooks.
Read Also: Top 5 criteria for choosing a security software
Create, Convert, Edit And Organize Files
Almost every reader software lets you create new PDF files or edit existing ones. This is the reason why this software is being used in the corporate world by employees to share, edit, and create PDF files.
Sometimes, employees are asked to make duplicate files on various platforms, such as the PDF format for security or usability purpose. In this case, PDF readers make it easy for employees by saving them the hassle of writing entire files in PDF format.
PDF readers give them the option to convert files of different extensions into PDF format without making any changes to the contents of the file. After doing so, you can edit those files if you like or keep them as they are for reading purposes.
Is A PDF Reader Secure?
Firstly, consider if PDF documents are secure. Well, according to reports they are among the most secure file types thanks to added layers of security.
When it comes to PDF readers' security, they are quite secured as well. Thanks to the password-protected file option, you can put passwords on important files to control who can read those files and maintain security.
Some Examples Of PDF Readers
Here we have listed some pdf readers that helps you to read pdf e-books along with the functions of creating, editing and converting pdf files.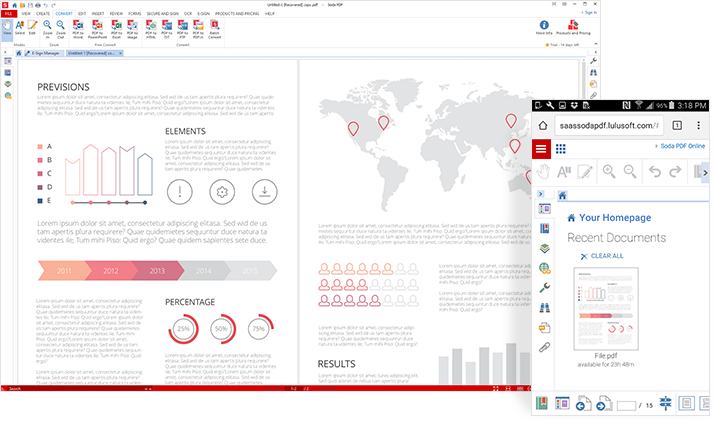 Adobe Acrobat Reader
Adobe acrobat reader is the most popular pdf reader software developed by Adobe that lets you view to create, manipulate, print, and manage PDF files. This software is available for free to use on several platforms like desktop, mobile, etc.
Soda PDF
Soda pdf is another breakthrough software that lets you read, write, and edit new files for absolutely free of cost. It can convert, edit, and manage any pdf files on any platform.
Foxit Reader:
There is another most popular app called Foxit reader, that allows you to create, edit, merge, compress, split, and convert pdf files. It is available on free along with the premium product for business purposes.
Read Next: Choosing the Right Student Software for Academic Purpose