Payoneer
is a global
online payment service provider
for cost effect payment in more than 200 countries worldwide which provides international wire transfers, online payments, and prepaid master card service for freelancers, publishers and online affiliates. It provides the own US and UK virtual checking bank account where you can directly receive payments from worldwide and you will not need to convert money on your local bank account in local currency or can withdraw cash from any ATM or POS worldwide with taking lowest fees.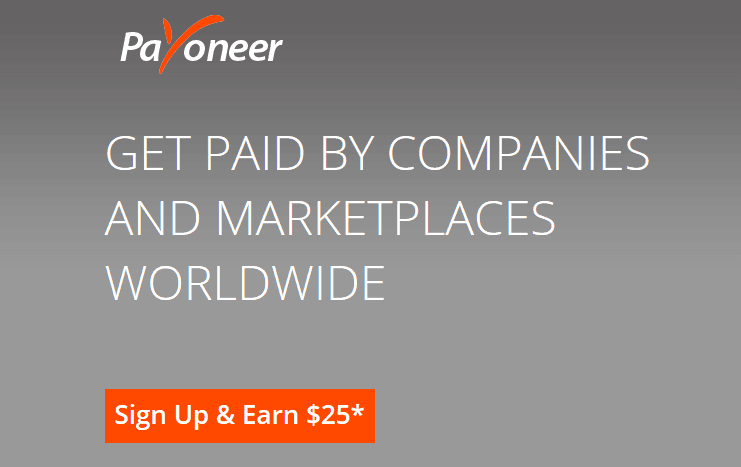 Who Will Get Benefited
If you are an online freelancer and delivering different services through online freelancing sites like Upwork, guru, freelancer, Fiverr, people per hour, 99designs, etc. can receive your earnings through the Payoneer account. A single account works for all sites to receive the payment, once you have registered can connect all of them to your Payoneer account. Publishers of any blog or website, online affiliates, and other online marketers can also be benefited from receiving payments from mass payout companies or requesting payment personally.
Who Uses This Service
Following your trusted freelancing company, online publishing networks and affiliate networks along with other thousands of company and services accepts payments from Payoneer.
People Per Hour
PopAds
Guru.com
PropellerAds
99designs
Amazon.com
Avangate
Elance
Fiverr
GoDaddy.com
Infolinks
Linkshare
Upwork
ShareASale.com
Taboola
Main Features and Benefits
You will get the following main features and benefits of using Payoneer as your online payment processor service.
You will get easy to use and reliable payment system for getting payments from the US and EU companies.
There are no bank accounts needed, you will get your own US and UK virtual checking bank account.
You will get payments from different ad networks and affiliate networks easily.
It automatically converts to another currency while shopping or withdrawing from your local bank or ATM.
You can send and receive payment globally with a low monthly fee.
It also allows transactions between its accounts free of charge.
You don't need to convert your currency, you will get money in your local bank account in local currency automatically.
You will get Payoneer prepaid MasterCard to withdraw cash from any ATM worldwide.
You can load money from the local bank to the Payoneer account.
There are different payment options are available i.e. deposit to the local bank account, master card and wire transfer etc.
Services Provided by Payoneer
Payoneer provides a completely online payment processing service with providing different services like global, payment service, prepaid master card, local bank withdrawal, mass payout service, global bank transfer, billing service, and transactions between your accounts.
Global payment service
With global payment service, you will receive a bank account for the US, EU, and the UK which allows you to receive bank transfers from companies in these countries directly to your account with ACH transfers
in the US, SEPA transfers in the EU, and BACS transfers in the UK.
Prepaid Master card
After registering on Payoneer, you will get the prepaid master card delivered on your address that is supported in 200+ countries and 150+ currencies which allows you to easily withdraw or spend their funds, from anywhere in the world. It is fully integrated with mass payout services and will reduce the time and money spent on transferring funds to
your beneficiaries worldwide.
Local Bank Withdraw
You can also withdraw funds from your its account directly to your local bank account in over 150 countries and currencies with Payoneer's Withdraw to Bank Service. Its global banking network enables you to transfer funds from a local bank in your country, so you significantly reduce the cost of getting paid and avoid delays.
Mass payout service
Top freelancing sites, affiliate marketing networks, advertising networks, and other companies, corporations, and marketplaces use Payoneer's mass payout service to easily take and release funds to large numbers of customers in more than 200 countries, in 150+ currencies fulfilling their cross-border payment needs.
Global Bank Transfer
With its global bank transfer service, you can easily send
funds to over 200 countries, in more than 150 currencies. It supports different payment methods which include Automated Clearing House (ACH), international wire transfers, and local bank transfers.
Billing Service
You can send a payment request and receive your Payoneer account safely and securely using your Payoneer virtual bank account and your prepaid master card. You can request payment even if the customers or company are not using this service.
Transaction Between Payoneer Accounts
If your clients and friends are using Payoneer, can send and receive payments between accounts with free of charge. You can send payments even if your receiver is not in the Payoneer network by simply entering their email and they will be able to sign up and collect their payment.
What Does It Cost
Payoneer takes into account maintenance fees monthly or annually, ATM withdrawals, balance inquiries, and decline fees as given in the screenshot below.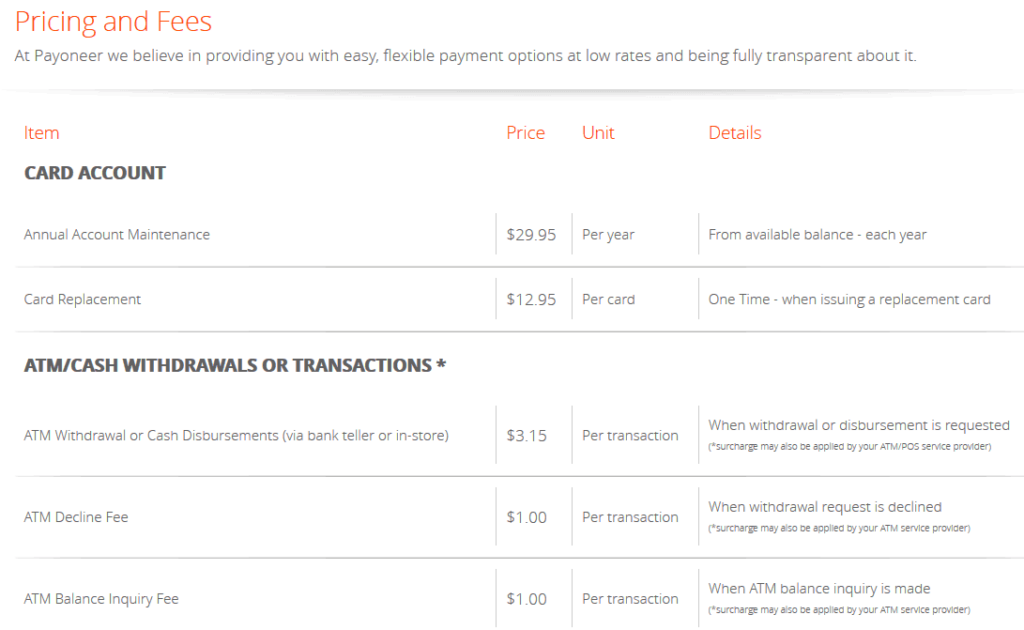 How to Apply for Payoneer
Use the following steps in order to apply and get a prepaid master card from Payoneer.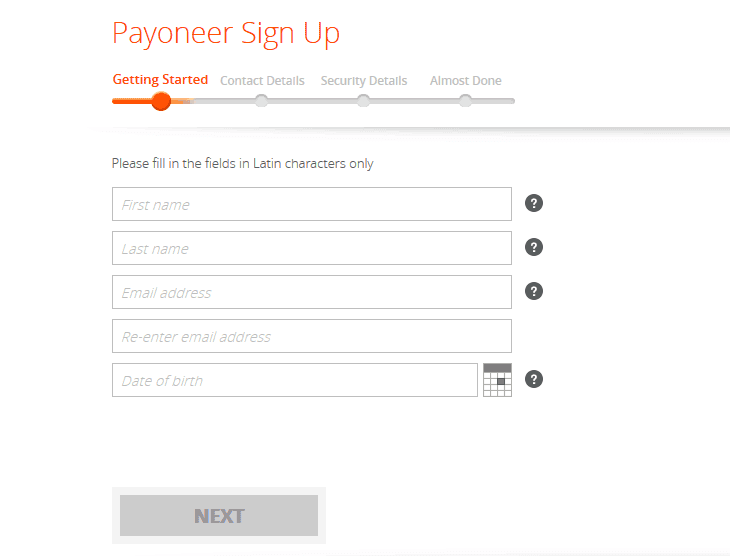 After registration is completed, you will get thank you page
After the account is approved, you will get the master card 2-3 weeks to arrive at your address.
Activate the card from your Payoneer account.
Special Bonus for Our Readers
You will get a $25 bonus from Payoneer if you registered from the following link and first time loaded $1000 on your account.