Infolinks
is a CPC advertising network for monetizing your blog or website by keeping the Look and feel of their sites undisturbed.  I have used this ad network for years, and in today's post, I will be sharing my
review of Infolinks
from my experience.
I started this blog in 2012, and the first advertising network I used was Infolinks before applying for Google Adsense. After that, I started displaying Google Adsense ads along with this ad network as the best supplement to Google AdSense revenue.
Infolinks runs a keyword-based real-time bidding auction, all in order to deliver a perfectly timed, perfectly relevant ad by extracting user intent in real time. They have also mobile apps for both Android phones and iPhones for real-time reporting.
Ad Unit Used by Infolinks
Infolinks publishers can use five types of ad units on their websites or blogs named InFold, InTag, InText, InScreen, and InFrame.  The details about each ad unit are described below.
InScreen
The In-screen ad is also known as an 'interstitial ad' which is shown on your website with layering above the screen. This ad unit will be displayed in three conditions, one is when a user is entering the publisher's website, another is when a user passes in between inner pages on the publisher's website and the last one is when a user is leaving the publisher's website to an external link. You can activate any one or all of these conditions to display this ad unit on your website.
InFrame
This ad unit allows publishers to capitalize on the extra margin space of visitors originating from widescreen monitors but not shown in small screen devices, where ads display as vertical banner ads on the left and right sides of your website to traffic arriving from a widescreen.
InFold
InFold ad unit displays ads relevant to what your website visitors are searching for, displayed at bottom of the screen with sticking there. The unique feature of this ad unit is that after a few seconds, it appears quietly shrinks down to a headline and only goes up after the user mouse over on it. It is the most engaging ad unit with a high click-through rate.
InTag
This ad unit recognizes the most valuable keywords within your content and displays them in a one or two-line tag cloud targeting a wide variety of visitors with a spectrum of relevant keywords displaying on top, bottom, or on both sides of your webpage. There is another option to boost your earnings by activating the "boost revenue" option, which displays content ads from their own network or third-party network.
InText
InText ad unit displays ads with linking text from your website using an algorithm that only highlights the most relevant keywords and will match a reasonable amount of marked words on each page.   It allows you to set the number of ads to be displayed and can also control where to display ads.
Payment Methods
Different payment methods offered by Infolinks to their publishers are PayPal, Bank Wire, eCheck, ACH (only for U.S. bank accounts), or Payoneer. They will pay after 45 days from the end of the month when the publisher has reached the minimum payment threshold for each method. PayPal, eCheck, ACH and Payoneer have a minimum payout threshold of $50 while the Bank Wire Transfer option has a minimum threshold requirement of $100.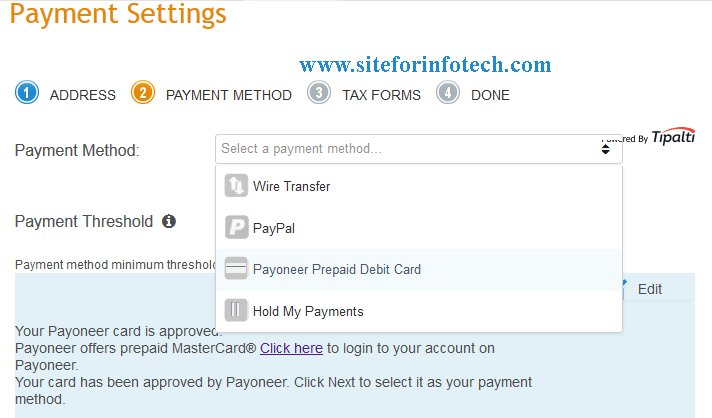 Payment Proof
I am using this advertising network for monetizing my blog also since 2012 and got payments many times according to their payment terms. Here is the screenshot for proof of their payment.

How to Register as Publisher
There are no advanced steps for registering on Infolinks as a publisher, you only have to fill out a short form and integrate the single code only at once on your website. Use the following steps to join Infolinks.
First open, the registration form, fill out and submit it.
The Infolinks review team will review your application.
After approval integrates the Infolinks script into your web pages.
How to Integrate Ads
After approval of your application, you can integrate Infolinks code into your website using the following steps.
From the Infolinks dashboard go to the "Integrate" tab, then you will see the following screen.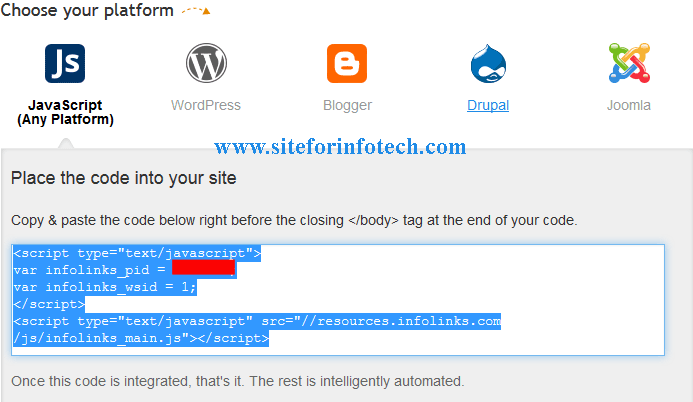 Copy the given code and paste it below right before the closing </body> tag at the end of your code.
Setting Ad Preferences
You can set up your preferences for displaying ads on your website from the customize tab for each ad unit. You can adjust the ad unit color for each ad unit, turn on, or turn off the whole add unit whether you want. Turn on or off revenue booster for InTag ads and can also adjust where to display ads on top, bottom, or on both.  You can also select triggers for displaying InScreen ads.
My Recommendations
Since it is quick and easy for registration, implementation, and generating revenue from your website, the implementation of the ads on your website may look spammy if use all of the ad units and the maximum number of InText ads. Sometimes it may display irrelevant ads, which may decrease your revenue potential. But if you are looking for additional revenue along with your Google Adsense or other display ads, it will be the best option for you. I'd recommend trying it yourself for your own experience with joining here.