H12-Media is the best CPC CPM CPA publishing network under the company name "
H12 UK LTD
" that focused on some rich kind of advertising banner models for publishers and advertisement agencies, which purchase and sell global web traffic through the world's biggest RTB market places in order to achieve the best eCPM with the very simple looking website and user dashboard.
It provides three types of pricing model, the first one is hard floor pricing where you can specify your minimum selling price in CPM and the unfilled traffic will be sent to your back-up banner codes. Another model is the only CPM option in which the H12 engine automatically manages the CPM campaigns first and the unfilled traffic will be sent to your back-up banner codes. The last model is the fulfill option in which the ad server tries to achieve this via the CPM campaigns first and unfilled banner spaces are passed for the CPC or CPA campaigns.

Supported Ad Sizes and Types
Currently H12 Media supporting different sizes 300×250, 728×90, 160×600, 120×600, 320×50, 300×600, 468×60, 120×600 for display ads along with Pop Under, Sliding, on-video banner types of ads options and using ASYNC banner tags to optimize your site for search engine optimization. Along with it, frequency capping also available for sliding, on-video banners and pops.
Ad eCPM and Payments
Since they are serving ads from high-quality ad servers like Yahoo Ad Exchange, Appnexus, Criteo,
Pulse Point Exchange
,
DoubleClick
and Direct Advertiser campaigns to optimize your revenues, so it is possible to get high eCPM rates for your displaying ads. But newly approved websites need to run banners at least 7 days and provide good CTR at the beginning in order to let the H12 Media revenue optimization platform get succeed. Here I have included a screenshot of my earnings reports in periods of 30 days according to the types of ads I have used.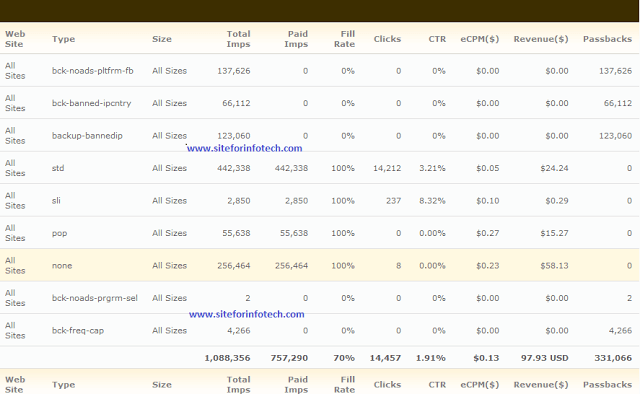 Currently, I have got a 70% fill rate and eCPM $0.13 on average with $0.27 CPM for pop-under ads and $0.23 from premium Google partner campaigns as an average rate in the NONE type of section. Most of the traffic for my site is India based, so I am getting that eCPM rate, If your site has US, Canada, Australia and Europe based visitors, you can get better CPM rates than me.H12 Media supports two types of payment methods and options. The first is Next-day payment, which pays their publishers their earnings within 1-3 business days after your payment request and the second option is Net-30, which does not require any process fees. You can get paid through either wire transfer or PayPal. You can request for payout when you got a minimum $25 for PayPal payments and a minimum $500 for bank transfers, don't have to wait ends of the month to request a payout when you reached the minimum payout amount.
Payment Proof
Here I have included a screenshot of my payment reports where I have requested and get paid from both next day payment option and Net-30 day's payment option.

Customer reviews
I have collected some reviews and comments from the internet to show what's commenting on other customers of the H12 Media Ad network are presented below.
RNHalawi.com on digital point forums says
"I tried h12-media.com for 3 days on my site (60% Asian traffic & 40% US traffic) and my earnings are above $25 (minimum payout via PayPal) and H12 is not a scam as for my own experience. And I'm using them for about 2 weeks now."
Deba Priya deb on digital point forums says
"Not at all, mate. Getting around $0.10-$0.15 after the first few days. Attached is the screenshot for your reference."
My Recommendation for Better eCPM Rate
You can get a better eCPM rate from H12 Media ads using "on video", "sliding banners" and "site under pops" with the standard banner as well. I would recommend you to use 728×90 and 300×250 sizes banners to get a high eCPM rate on the standard banner and also recommend to place up to 3 standard banners, 1 sliding banner, 1 on-video banner, 1 Site Under ads, in total maximum up to five ads tags into your website and don't forget to place your banners on the top of the page of your website to get the most impressions and eCPM.If you are still not registering on this network, I would recommend using it on your website to see how it works on your site and doesn't forget to comment or contact me, I will always ready to help you to generate the best revenue from your site.