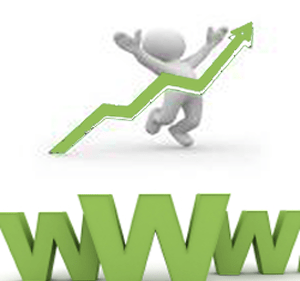 Your websites rankings in the search engine affect the visibility of your site in search results. Higher ranked websites are always appeared on the top of search results, those sites have greater chances of being clicked. As a result those websites can get high volumes of traffic, those visitors which are obtained from search engines are not only visitors for numbers but also highly targeted visitors. There are so many factors that influence your website rankings, some of the most important factors I have described here, may help you to increase your websites rankings and visibility on search engines by implementing those tips for your website.
Factors That Influence Your Websites Rankings
# 1. Textual content on your website
If the webpage does not have text content or have little text content, search engine could not find anything to index or may be ignored by the search engine. The little or no text content webpage does not appear on the search results.
To be more visible to the search engine, the webpage must have text content related to your website. To get good rankings for your website on the search result, you have to add more text content to the webpage.
# 2. Bot permission on robot.txt
The effective implementation of robot.txt file affects the indexing and ranking of web page in the search engines. If the robots.txt file of your website does not allow any bot to index the page or the robots meta tag of the web page does not allow the particular bot or particular page to index the page, the search engines don't show that page in the search results.
To be indexed all the pages or the pages you wanted to be indexed by the search engines, you have to change the robot.txt file of your website, so that search engine index the page.
# 3. Click depth of page from root directory
It is better to make flat file system than creating deep directory structure. The less distance from the root directory increase the web pages importance and rankings. So the web pages that can be reached with the few clicks from your home page, search engines gives higher rankings and the search engines give lower rankings to the page that require a lot of clicks from home page.
# 4. Uniqueness of the page content
Having duplicate contents on the website is not good for search engines. If you have placed same web page twice or more on your website, it may have negative effects on the search engines positions. So do not submit duplicate page on the website as far as possible.
Along with avoiding duplicate web page, you should also avoid from duplicate paragraphs. Those web pages having duplicate contents may be ignored by the search engines. So you have to remove duplicate paragraphs from the page.
# 5. Method used for page redirection
Method of the redirection you have used also affects your websites rankings. If you wanted to redirect the visitors of old URL into new URL, you need to redirect the visitors of old site into new site. A 302 redirect tells the search engines that redirect temporarily and 301 redirect tells the search engines that redirect permanently. So 301 redirection method used in your website increases your websites rankings than 302 redirection method used.
# 6. Number of links on a page
Linking your text on another related website or the pages on the same website is a good idea for making your page more resourceful and also to increase the ranking of your page. But too many links on the web page negatively impacts for rankings of your web page.
If a page contains too many links, search engines might think that the page itself does not contain enough content and does not show pages that have just links to other websites. So try to decrease the outgoing links as far as possible and it is better if number of internal links are greater than number of external links. The total number of link should be less than 200 and it is better if it goes to less than 100.
Google
prefers less than 100 links on a single page.
# 7. Uses of meta description tag
Effective uses of meta description tag helps to increase the search engine rankings for your webpage. It you don't use meta description tag, search engine do not display your webpage on the search result. So add a unique and descriptive meta description tag on a page.
The too short and too long meta description tag also interrupts negatively by the search engine. So meta description tag should have at least 50 characters and it should not have less than 160 character. The meta description tag also needs to be relevant to the webpage or business and it should not be duplicate.
# 8. Size of web page
Web page loading time is also a factor in search engines ranking factors. If the size of website is very big, it takes longer time to load. The search engine crawlers can not index the web page which takes longer time to load. If your webpage is very big, you have to split your page into smaller pages.
# 9. Tile of the page
Using appropriate title for a web page is also very important for search engine rankings. The title of page should represent the content of the whole page. While creating title for a web page, should use meaningful keywords related to your content and it should not be too long and too short. A short title may not sufficiently describe the page and long title will shorten when displaying in search results. For better rankings, always use short but more descriptive and keyword rich title and also do not use duplicate title tag.
# 10. Format of URL
Format of URL also affects the ranking of a web page. The URL of web page should not use the characters which are not allowed in URL.
The URL should not be too long and should not use too many parameters. Search engine might not look for rankings information for the web pages having long URLs. Along with high ranked by search engines, a short and descriptive URL also shared on social networking sites.