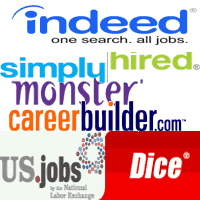 Finding the best job that can best match your academic qualification and your skill may be a difficult task if you don't select the best way for that. If you are thinking about a job after completing your college or university, first you have to prepare your best CV and
Resume
 and have to apply for the job that fits you. Today job search sites became more popular for both searching and posting a job, "you can submit your resume" on those sites, which are easily accessible through the web for applying in different jobs. It makes your
job searching
to work easier and faster. So I have listed here some top job search sites throughout the world.
 List of Best Job Search Sites
1.
Indeed.com:
It is the No.1 job search site of worldwide. Millions of jobs were posted here and have hundreds of millions of unique visits on it. Indeed is available in most of the major countries and languages. The mobile application is also available for making job searching work easier and faster. For better performance of searching, it has also an advanced tool for
searching for jobs
by using different criteria.
2.
Monster.com:
Monster.com is the top job search site in
the US
and also available internationally in Europe, North America, Middle East, and the Asia Pacific region. You can get different jobs based on the different locations and categories by using its
search engine
. You can also get notified by e-mail about any job post openings after subscription.