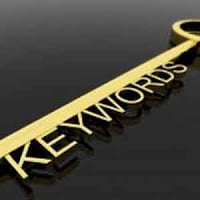 Everyone needs to do keyword research work for the site before starting search engine optimization work as the first and most essential task. So finding the right keyword set for the site and utilizing it in a right way is not much easier. If you optimize a site with the wrong keywords, you may go up with a high rankings site but that won't increase traffic. You can find some best keyword research Tools on the web, which can help you to find out the suitable keyword set for your site. Here I have presented some tools which can perform best on keyword research work for you.
1. Google Keyword Tool:
This keyword tool is provided by
Google Adwords
. It is free to use keyword research tool. You can get ideas specific to the geographical location and language that you select and also have other advanced options and filters. Google Adword is one of the services from Google where you can advertise on Google sites and services. This Google Keyword Tool is introduced to find suitable keyword for the website to advertise on Google Adwords.
2. Bing Keyword Research Tool:
It is also another Keyword Research Tool from
Bing Webmaster
, where you can get keyword ideas and suggestions for your website. All the search queries which are display on the result are based on only organic search. You can get the search results from up to six months data. Also can get keyword ideas by language and country / region. You can access your keyword research history up to 25 keywords. To use this tool you have to login to the Bing Webmaster Tools.
3. Word stream's Keyword Tool:
This keyword tool includes keyword suggestion tool, Keyword Niche Finder, Keyword grouper and Negative keyword tool. By using keyword suggestion tool you can do up to 30 searches for keywords at a time. Keyword Niche Finder Tool is to discover profitable keyword niches in its keyword database. You can group thousands of keyword lists into relevant topics by the keyword Grouper Tool. If the keywords are not relevant to your PPC campaigns, they are as negative keywords. You can discover potential negative keywords from Negative
Keyword Tool
to avoid wasteful PPC costs.
4. Word tracker's Tool:
It is one of the Excellent Professional
Keyword Research Tool
. By using this tool, you can find more long tail keywords which can be highly relevant for ranking well in search engines you can also know about your competitor's keywords. You can use free trial for 7 days and can continue by using anyone subscription package.
5.
Keyword Discovery Tool:
Keyword Discovery search statistics from all the major search engines and give suggestions for your websites. It can tell you the search phrases as well as search terms that drive traffic to your competitor's website. There are two types, standard and professional plans and also have free trial option to try it on free.
Correctly identifying the best keywords and search terms using a keyword search tool will help for your success. So these tools listed above will definitely show a way for finding correct keyword to you.